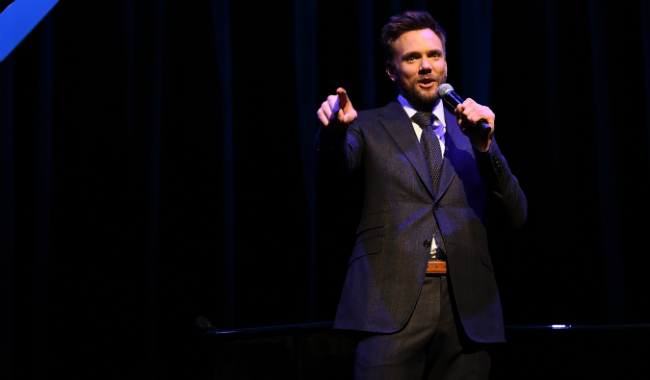 Even though the ESPY Awards are even more pointless than most awards shows (which are already pretty pointless), they;re always good for a few entertaining moments, almost always courtesy of the host, being that most athletes are total stiffs when it comes to entertaining in a suit instead of a jersey.
Last year's choice of Drake was pretty inspired; it gained a lot more attention than the show otherwise would have, thanks to the fact that he's, you know, Drake. But because he apparently wasn't available or simply didn't want to do it again, ESPN had to find a new host. And it's Joel McHale!
ESPN announced McHale's new gig on Good Morning America today, and McHale released his own statement, via the Hollywood Reporter:
"I'm thrilled to be hosting the ESPYs. Just ecstatic. After my stunning victory in the Iditarod this year by only using six Bichon Frises and a lamb, I think the sports world saw me as the logical host."
That's a preview of the kind of humor we can expect from McHale at the ESPYs, braggadocious exaggeration is his signature style. McHale's last high-profile hosting gig was at the 2014 White House Correspondents' Dinner, so re-watch his monologue from that night if you want an idea of the tone he'll strike. And if you find it ridiculous that the ESPYs require the same high-wire act of being funny, but not embarrassing anyone, then you're right. But that doesn't make it incorrect.
McHale should do a fine job with the event, but ESPN is probably expecting much lower ratings from this year than when Drake was the headliner.
(Via the Hollywood Reporter)