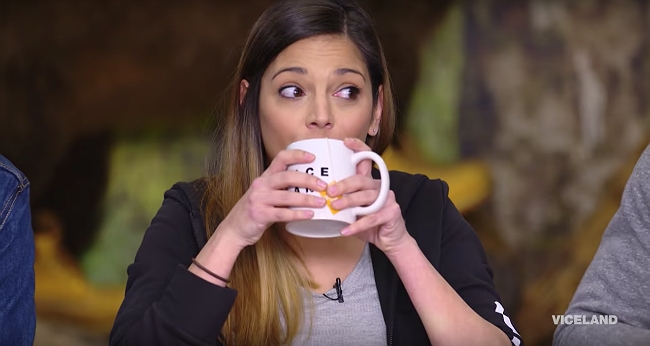 ESPN's Katie Nolan appeared on the best show on late night, Vice's Desus and Mero, on Wednesday. Calling it her "Flu Game," the under-the-weather Nolan talked about everything from Tom Brady's intelligence, her first few days at ESPN, and even other people in media like Jason Whitlock.
But her most interesting moment in the interview came when she called Donald Trump a "fu*king stupid person," a brief correction from what she initially called the 45th President of the United States. We can't be exactly sure what the first thing she called Trump was, as it was bleeped out by Vice. But it was probably a bit harsher – and maybe a bit less societally acceptable – than what she corrected with.
The extended interview is up on YouTube, and at the 13:30 mark, when they're talking about Trump's propensity for giving thumbs ups, Nolan says the line about Trump.
https://youtu.be/FtB3YSdLQR4?t=13m30s
"That's because he's a f*cking stupid person," Nolan said after she had to back herself up and walk back her previous line.
No one made any significant waves about the interview when it aired late Wednesday and was posted online on Thursday. But as Robert Littal of Black Sports Online pointed out on Friday, the lack of outcry over Nolan's apparent testing of ESPN's new policy about its employees making political statements is just as curious as
Desus and Mero may not have the broad appeal but the video has been viewed by thousands of people, and other sites like Deadspin have wondered what exactly Nolan said that made Vice bleep it out, then broadcast her next line about Trump unedited.
And it seems odd that it's escaped the view of an administration that responds to almost any kind of criticism with a fervent defense. The White House calling out ESPN's Jemele Hill for a much less vulgar criticism of Trump, making it a national story in the process, was one of the reasons the new policy was created in the first place.
ESPN released a statement about Nolan's comments late Friday, calling the incident 'inappropriate."
Whether Nolan is further publicly shamed by ESPN for her comments or not is hard to say, but the contrast between the two incidents and the lack of outrage by those who had taken to accuse ESPN of a wholly liberal bias is noticeable here. After all, what's the difference between Hill and Nolan in these two cases?