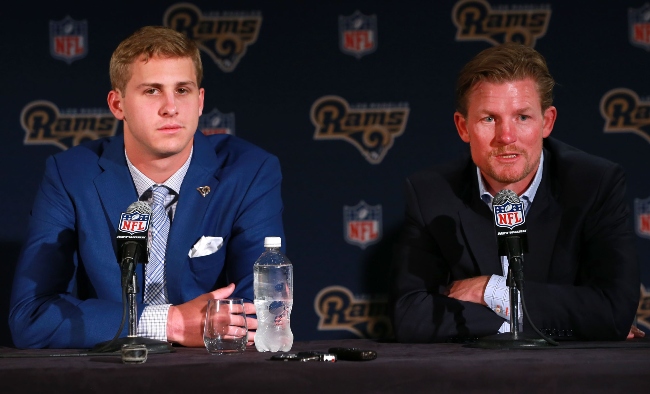 Les Snead is no stranger to big moves. As general manager of the Los Angeles Rams, Snead and head coach Sean McVay "won the 2018 offseason" despite not having a draft pick until the third round. Through trades, free agency, and extensions, Snead had the Rams in the conversation for most talented team in the league and one that could have staying power.
But while big moves make news, Sunday's Super Bowl against the New England Patriots will be the first for Snead after 24 seasons as an NFL executive. Trades for Brandin Cooks, Marcus Peters, and Aqib Talib are notable, although they hardly compare to some of the huge draft deals that Snead has been involved with before, including the most fruitless trade down of his career and then going the other way in hopes to find a franchise quarterback four years later.
Snead had traded down for plenty of picks during his career as an executive, but 2018 saw him trade unknown commodities for known ones, even if they had red flags or huge price tags. "When you're in this position you're never irrational enough to think you're one or two players away," Snead recently said to the Boston Herald. That wasn't always the case … or maybe Snead had never seen himself in the position he found himself in heading into this season: manning the helm of a contender.
Given his upbringing through the NFL ranks beginning in 1995 with the Jacksonville Jaguars, though, it's no surprise that Snead isn't one to just stockpile draft picks. In his first year with the team, Snead watched as the expansion Jags made five trades during the draft, including a move up in the first round from 31 to 19 so they could select running back James Stewart, a move down in the second round, and trading a third and a fifth for quarterback Mark Brunell. Jacksonville also made a major foundational move that year by taking tackle Tony Boselli with the second overall pick. Snead spent three years as a scout with the team, seeing them go from 4-12 during their expansion season, to making the AFC Championship game in year two, to going 11-5 in year three.
He was then hired by Atlanta Falcons general manager Ron Hill as a scout starting in 1997. Four years later, Snead saw his GM pull a move that had rarely been done and had almost never proven to be effective: The Falcons went all-in for a quarterback, trading pick five (LaDainian Tomlinson), plus a second, a third, and Tim Dwight to the San Diego Chargers for the first overall pick, using it on quarterback Michael Vick.

As Chris Berman mentions in that clip, it was just six years earlier that the Cincinnati Bengals moved up from five to one, securing "franchise running back Ki-Jana Carter." For some time, Vick changed Atlanta's fortunes, making the Pro Bowl three times in his first five seasons, leading the Falcons to the playoffs in 2002 and 2004, and revolutionizing the position. It all came crashing down when Vick spent 21 months in prison for his involvement in a dog fighting ring. Snead spoke of what he learned from that move, at a time when he was the Falcons director of pro personnel:
"I think what probably all teams and especially us and myself have carried on is that, number one, you realize these are not just young — you're not just developing football players. You're developing young men to men. Not just for their time that they're with you and your franchise."
Snead spent 10 more years in the Falcons organization and saw general managers Hill, Rich McKay (2003-2007), and Thomas Dimitroff (2008-present) give lessons on how important it is to find a franchise quarterback, as well as the value of trading draft picks, for better or worse — players like Aeneas Williams, Peerless Price, and Matt Schaub were involved in transactions. Most notably, in 2008, Dimitroff lucked out in drafting Matt Ryan third overall before flipping cornerback DeAngelo Hall to the Raiders for a second rounder, which he used in a trade to acquire tackle Sam Baker, receiver Harry Douglas, and defensive end Kroy Biermann.
Atlanta went to the playoffs in four of the next five years. The Falcons fell below expectations in 2011, going 10-6 and getting knocked out in the first round, but Snead was now viewed as a top personnel prospect in GM searches.
In February of 2012, the Rams were searching for a person to replace fired GM Bill Devaney. Failed draft classes with high picks ultimately led to firing Devaney and head coach Steve Spagnuolo, who was replaced by Jeff Fisher. This was actually the biggest selling point for Snead, who was one of two finalists for the job alongside Vikings exec George Paton, saying in his interview, "Do you think you can get Jeff Fisher? That's a guy I want to work for. That's the opportunity of a lifetime."

The Rams hired Fisher, then paired him with Snead. In their first draft together, the team held the second overall pick in a class that included two quarterbacks who had a lock on the top spots: Andrew Luck and Robert Griffin III. However, Sam Bradford was only two years into his career, and they weren't going to move on from him.
Snead ended up moving from two all the way down to 14. Perhaps what is most surprising about this transaction, though, isn't that it was such a drastic change in draft position. Rather, it's that Snead's haul ended up being virtually nothing outside of the player they ultimately ended up picking first in 2012, anyway: Michael Brockers. Beyond him, the Rams used picks acquired in these deals to draft Janoris Jenkins, Greg Robinson, Alec Ogletree, Stedman Bailey, Zac Stacey, Isaiah Pead, and Rokevious Watkins. Only Brockers is still with the franchise.
Snead has said that the Fisher era brought about a lot of key foundational moves for the franchise, but clearly the 2012 trade was not one of them. "In the era of where Jeff was the head coach, there's a lot of key moves," Snead said to the Boston Herald. "There's decisions along the way that you're farming and they're coming to fruition, so I think that era definitely played a role in building a foundation here."
The 2013 draft class didn't help much either, as Snead traded up to select Tavon Austin eighth overall, then Ogletree at 30. None of the seven players they drafted that year remain with the team. In 2014, Robinson happened at two, then Aaron Donald at 13, and defensive back Lamarcus Joyner at pick 43. Donald and Joyner are the only players out of 11 taken that year that remain with the team. He made another notable deal in 2015, swapping Bradford for Nick Foles, adding a second rounder in the process. Foles was practically useless in the Fisher offense — which quarterback wasn't? — but actually, the second rounder was what came in very handy, as Snead used it in the most successful trade-up of his career.
In the entire history of the NFL, a team has traded up to the first overall pick in order to select a quarterback only two times, and Snead is connected to both of them: when the Falcons moved up for Vick, and 15 years later, when the Rams moved up for Jared Goff.
A fair stretch away from the number one pick, Snead had to move up 14 spots if he wanted to secure his top-rated quarterback in the 2016 draft. Snead sent the 15th overall pick, two second rounders (including the one acquired in the Bradford-Foles swap), and a third, plus a first and a third in 2017. The franchise had evaluated both Goff and Carson Wentz and decided that the quarterback from Cal was the right choice for them after Goff insisted that he be tested in whatever conditions the universe had in story.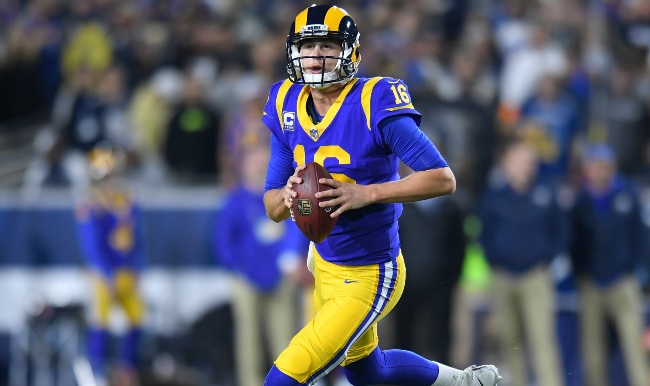 Snead made the big move for Goff because he saw it as perhaps his best opportunity to get the Rams a franchise quarterback. Even if it was risky, not having a franchise quarterback has gotten just as many GMs fired, if not more.
"Last year we were sitting at No 15 (in the first round) and we knew we had to find a long-term starter. We then identified Jared and we liked Carson (Wentz) too. I always say this about the calculus equation. Needing one is part of the equation. Identifying one is another part. But the toughest part is how do you acquire that guy. We found a way and decided to do it. That's why we made the move."
Like his former GM boss 15 years earlier, Snead had made a monumental move to secure the quarterback he viewed as franchise caliber. This made the fact that Goff had one of the worst rookie seasons by a QB in modern history — his 5.3 yards per attempt was the lowest by a rookie since Jimmy Clausen in 2010 and Los Angeles went 0-7 in his starts — quite concerning. This turned out to be a blessing, though, as Snead's "dream job" of working with Fisher came to an end and thus what is now referred to as "Phase Two" began.
Snead and the Rams' front office began searching for a new head coach to build out a staff that would set up Goff for success. If Goff failed, Snead failed. That's where Sean McVay entered the picture in 2017, and with owner Stan Kroenke's money, the market of Los Angeles now firmly in his corner, and a franchise quarterback, Snead could swing for the fences immediately.
The Rams signed receiver Robert Woods, tackle Andrew Whitworth, and center John Sullivan. On the trade market, the team acquired Sammy Watkins, and even spent a draft pick on bolstering the receiving corps, drafting Cooper Kupp to help build out a new offense for Goff, who went to the Pro Bowl and helped L.A. win the division at 11-5. The Rams became only the second team ever, and the first since 1965, to go from worst to first in points scored. The Rams were knocked out of the playoffs immediately by the Falcons, but that did not deter him from more moves. L.A. made eight trades in 2018, swapped out Watkins for Cooks, and added another three points per game to their already dominant offense.
Goff is now one win away from being a Super Bowl champion before his 25th birthday, something that is possible because Snead envisioned a championship future around him and made one of the riskiest deals any GM has ever made, four years after seeing his own trading partner get almost nothing out of Griffin and 15 years after the Vick selection. As is oftentimes the case in life, the most important thing a person can do is learn from the past and use those experiences to shape the future. Snead did just that, taking the lessons that we on display as his Falcons made history, applying them to the Rams, and if all goes right, riding that wave to the second Super Bowl in franchise history.