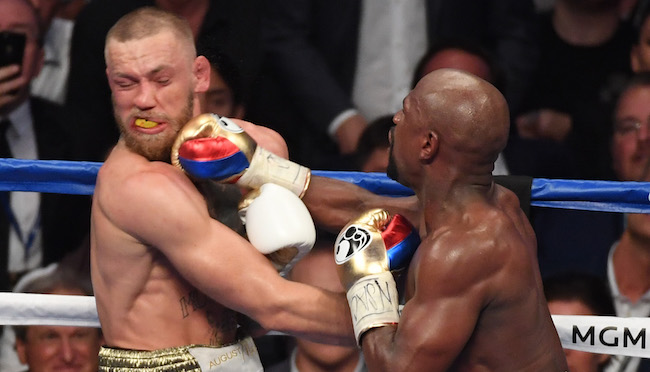 Floyd Mayweather moved to 50-0 on Saturday night in Las Vegas as he took out Conor McGregor by way of a 10th round TKO in what proved to be a much more entertaining fight than many anticipated coming in. While far more entertaining than most expected, there are varying opinions on the how competitive the fight really was.
McGregor came out guns blazing, attacking Mayweather in the first three rounds, landing more clean punches than some anticipated he would all fight. His skill level and ability to work his way through Floyd's defense, which was admittedly a shell of what it once was after two years of retirement, was highly impressive and there were many, including Showtime's unofficial scorer Steve Farhood, that had McGregor winning all three of those early rounds.
With the way boxing judges have been known to make confusing, if not downright disgraceful, decisions, it was a risky move for Mayweather to coast in those early rounds and seemingly hand them to Conor. However, in the end, it proved to be a worthwhile venture as McGregor tired out and a Mayweather barrage followed for much of the final seven rounds of the fight until it was stopped by Robert Byrd in the 10th round.
While the general public and many of the writers tweeting round-by-round scores ringside had McGregor getting at least three rounds, if not four (as Farhood had) in the fight — rounds 1, 2, 3, and 8 all could've gone his way — the judges weren't so kind. Of the three judges ringside only one had McGregor with three clean rounds in the fight and two gave Mayweather a 10-8 round in in the 9th.

For it written out more clearly, the three judges scores were:
Guido Cavalleri: 89-81 Mayweather
Burt Clements: 89-82 Mayweather
Dave Moretti: 87-83 Mayweather
So, while the fight was more entertaining and McGregor performed better than expected, in actuality, the fight was not particularly close in the eyes of the three judges ringside. Considering Mayweather landed 152 power punches to just 82 power punches by McGregor, they were probably right.