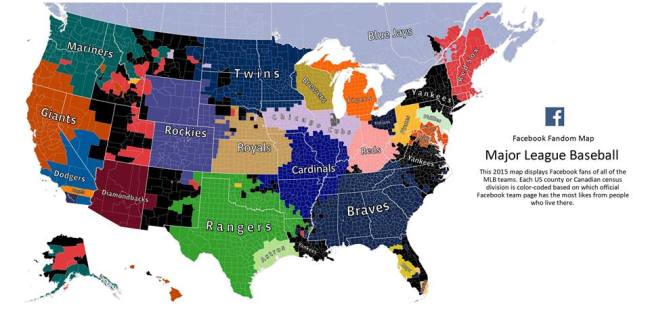 Facebook's data team has released a map that details the most popular Major League Baseball teams in every county throughout the United States. The data is cumulative and based on the number of "likes" each team has received on their official Facebook team page, which was then color-coded to show the most popular team within that region.
A fun takeaway is that, according to Facebook, no single county in the United States preferred either the New York Mets, Oakland A's, or Toronto Blue Jays. Obviously, that's understandable in the case of the Blue Jays because they play their home games in Canada, but it's quite the embarrassment for both the Mets and A's.
But perhaps the biggest takeaway, if not the least surprising, seems to be that if you don't have a team nearby to root for, chances are you have latched on to either the Yankees or Red Sox. Notice Utah, which is basically split down the middle of either Red Sox or Yankees fans.
The rest of the country thought you were better than this, Utah.
[Facebook]