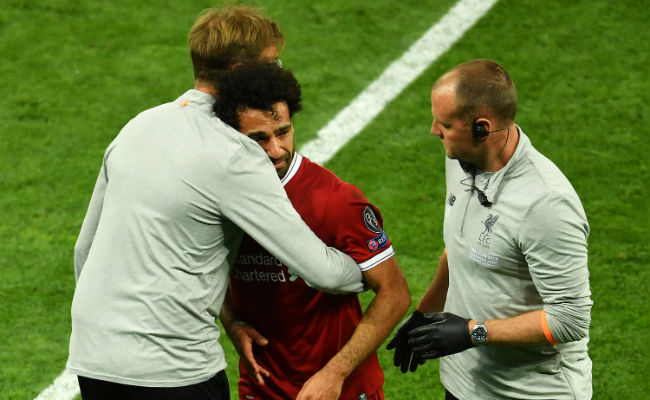 Saturday's Champions League final between Liverpool and Real Madrid got off to an early sour note due to an injury. Liverpool winger Mohamed Salah, perhaps the most feared goalscorer in the world this year, needed to be subbed off in the 31st minute of action due to what appeared to be a shoulder injury.
Salah and Real Madrid defender Sergio Ramos were in a battle for possession. The two weren't exactly upright, but Ramos still locked up Salah's right arm and the two went to the ground. Salah rolled onto his left shoulder, while Ramos landed on the Liverpool star. It led to Salah laying on the ground in obvious pain while holding his left arm.
Salah had his shoulder looked at and made his way off the pitch momentarily before coming back on. Ultimately, though, he was unable to play through the pain and had to be subbed off with tears in his eyes for Adam Lallana.

Liverpool still possesses a dangerous attack, primarily due to Roberto Firmino and Sadio Mane, but losing Salah is as bad of a stroke of luck as a team could afford. The Egyptian star came over from Roma last summer and fit in perfectly to the frenzied attack of the Reds, scoring 44 goals in 51 matches across all competitions. He was the best player in England this year and was among the best players in the world.
Real Madrid had to use one of its three substitutions due to an injury, too — fullback Dani Carvajal had to come off with an apparent hamstring injury. Still, Salah is more important to Liverpool than Carvajal is to Los Blancos, and while the match went into the half tied at zero, beating Real Madrid without Salah on the pitch is a tall task. For now, all soccer fans can hope is that he'll be healthy enough to suit up for Egypt in the World Cup when their first match kicks off in just under three weeks.