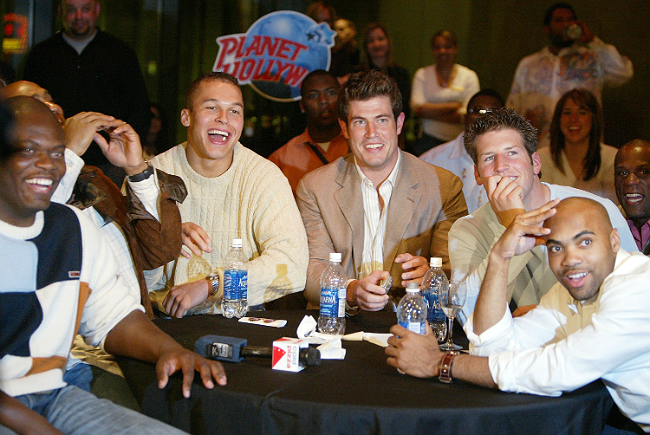 There are more than 250 picks in the NFL Draft, but only one person can be picked No. 1. By the same token, only one person can be picked last. That's Mr. Irrelevant, and instead of it being a punchline, it's become an honor given to a select few since Paul Salata created an event around the final selection in the draft in 1976.
If you're not going to be picked first, being picked last isn't such a bad deal. While the odds of making a team aren't very high that far down, the perks of being a Mr. Irrelevant are unforgettable. There's a paid vacation to Newport Beach in California and all sorts of parties and events that don't take themselves too seriously.
Ryan Hoag was the lucky recipient of being named Mr. Irrelevant in 2003 when he was selected 262nd overall by the Oakland Raiders. The wide receiver out of Division III Gustavus Adolphus was on a few practice squads over the years, as well as being named to the active roster on the Vikings for three weeks in 2004. He also spent some time in NFL Europe, the CFL, and the UFL before becoming a soccer coach at Washburn High School in Minnesota.
We had a chance to speak with Hoag about what it's like to be a Mr. Irrelevant, his memories of being drafted, and more.
Martin Rickman: What do you remember most leading up to the draft?
Ryan Hoag: Leading up to the draft, it's such an exciting time because you expect to have your name called. There's so many different mock drafts you're looking at, seeing this person has you in the third round, this person has you in the sixth, this person has you in the seventh. You're getting calls from teams on a day-to-day basis, from the head coach of one team to the offensive coordinator of another. They're asking you, "What are you hearing? What are teams saying?" "Oh, yeah, fifth round." "Oh, yeah, that's about where we have you at. We're looking at receivers and you're definitely somebody who is on our short list." They're just trying to build a relationship because they know if for some reason you fall in the draft, they want to be able to go back to those conversations and say, "Hey, we're sorry you didn't get drafted, but we want the best of the best undrafted free agents, so we're thinking about you and hopefully that goes a long way for us in signing you."
When it got down to the seventh round and the picks are coming in, did you know that the Raiders were going to be the team that took you?
Obviously the draft was two days back then, the first three rounds on Saturday, and the last four rounds on Sunday. I kind of figured I wouldn't be drafted on the first day, and I went golfing with a buddy.
The second day I was at a big gathering draft party in the cafeteria. There were a couple hundred people there watching. It went from such elation in the fourth and fifth round, and I was fielding calls. The phone was going straight to the school phone, and people would listen. Dallas called and told me they had a couple picks coming and to stay ready. That doesn't happen.
The end of the sixth round starts happening, and that's when reality sets in. Then you're getting called saying, "Hey it looks like you're going to fall out of the draft, if you do, we'd love to sign you as an undrafted free agent." That just hurt. You don't want to hear that because not only do you have that expectation and the confidence you had about playing well at the top. But you have a few hundred people waiting on you who have sitting through the draft for six hours. The last thing you want to do is let them down.
The seventh round comes, and you're mid seventh round, and the only calls coming in are teams telling you they want to sign you as an UFA. At that point I had made my mind up. I was broken hearted, but I was happy they'd guaranteed me a spot on the practice squad and I could grow into a receiver.
Then the draft breaks for the last pick, and they're like, "We'll be back to announce Mr. Irrelevant." I had no idea what that even meant. I had never heard of it. My buddy was like, "That's going to be you." That was our running back at the time who was one of my best friends. I looked at him like I had no idea what he meant.
Next thing you know I get a call, and the lady on the other line tells me to hold for Bill Callahan, who was the Raiders coach. My eyes were huge, and everybody read my mind. They knew. He comes on the phone and asks, "How would you like to be Mr. Irrelevant?" And there were so many emotions that went through my entire body at the time that I hung up on him. What a great first impression. No wonder they cut me. Everybody cheered. It was a surreal experience and something I'll never forget.
What goes into being a member of the Mr. Irrelevant fraternity?
It is unbelievable. If you're not drafted in the first round, you almost hope to be drafted last. It's an amazing experience. There's only 40 of us – this will be our 40th year. I'll be going back for our 40th anniversary. They have a celebration in your honor that they tailor to whatever you want.
For me, I wanted to go on the Jimmy Kimmel Show, and they made it happen. I was a guest on the show and I was the announcer. I was single, and they had a Mr. Irrelevant contest in Huntington Beach. They let me go golfing. They flew my friends and family down.
They have an arrival party each year and they give you hundreds and hundreds of gifts to you and your family. Every team from the NFL gives you a gift. It's amazing. I can't say enough positive things about Paul Salata and Melanie Fitch [Salata's daughter] and what they've done with that process. It's something that you'll never forget, and I've been back a couple of times since because they always invite me back and put me up. It's really, really special.
What advice would you give to this year's Mr. Irrelevant?
It's probably something he doesn't want to hear and doesn't make sense, but I was so caught up with being worried about OTAs and this hokey celebration in my honor. Nope. Indulge in all that. One-hundred percent embrace every second and every opportunity and interview that goes along with Mr. Irrelevant and have fun with it. Live that up. It's a once in a lifetime opportunity that only 40 people in the world have been able to be a part of. If they're going to be drafted, they're going to be a celebrity to some degree. This is your chance to be a showstopper where everybody knows you. Live it up. Embrace it and have fun.
I really think that's something that I didn't allow myself to do. Granted I went to the Raiders organization that's probably as messy and dramatic and negative an organization you can go to. They'd try to take every bit of fun out of everything. With that being said, hindsight 20/20, if I knew what I know now, I would've just enjoyed the moment. It's something the NFL supports and promotes, and if you guys want to cut me for this, then I can go find another team.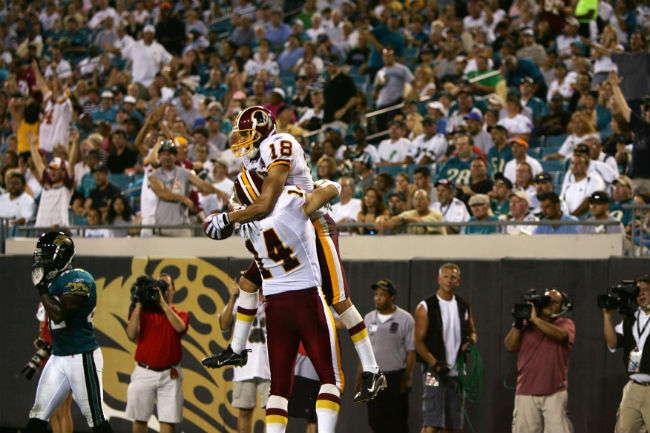 With the reality show experience, what was your takeaway, and would you have done it again?
I had two different experiences, The Bachelorette and Bachelor Pad. The Bachelorette was terrible. It was an absolutely miserable experience, and I said I was never going to do reality TV, it's scripted, it's negative, they don't pay you, they try to put words in your mouth, they try to get you to say things, they typecast you, and they put you in spots. That's just not me.
Whereas Bachelor Pad was a gameshow. There's only so many things they can try to get you to do because it's a game and they can't manipulate it as much. And you get paid and there's there competitive aspect to it. So would I do it again? I certainly would do a reality gameshow again, but I wouldn't bother with something like The Bachelorette.
What was your best memory as a professional football player?
When I got promoted to the active roster and spent part of the season with the Minnesota Vikings, that was certainly up there. Getting signing by Minnesota in the first place was fun. And scoring a touchdown in preseason when I was with the Redskins was a rare moment that was really, really special.