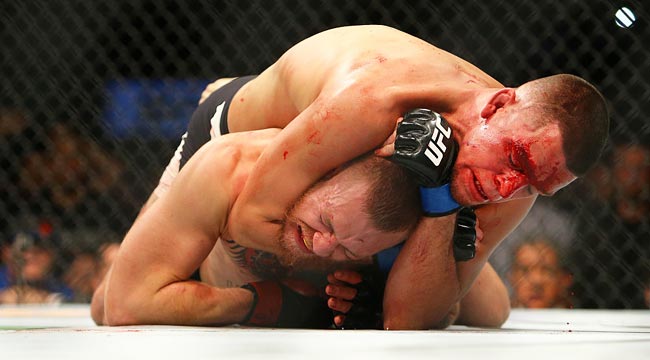 Nate Diaz is returning to the Octagon at UFC 230 on Nov. 3 in New York City to fight Dustin Poirier, according to Lance Pugmire of the LA Times. The popular younger Diaz brother was last seen in the cage going 1-1 against Conor McGregor in 2016, a series of fights that undoubtedly made him more money than all his fights over the previous five years combined.
Having that cash cushion allowed Diaz to take an extended amount of time off while he demanded the UFC pay him like the star he believes he became after the McGregor fights. No financial terms have been revealed for the Poirier match up, but we certainly hope Nate managed to get his worth out of the UFC for this big return against a tough opponent.
Poirier is riding a three knockout win streak over Anthony Pettis, Justin Gaethje, and Eddie Alvarez – that last one taking place just a week ago at UFC on FOX 30 in Calgary. Following the Alvarez win, Dustin declared he wouldn't pick up the phone for anything other than a title fight, but apparently fighting Nate Diaz was interesting enough for him to change his mind and sign on the dotted line.
https://twitter.com/Hamderlei/status/1023391860776230912
The fight is just a taste of what we're to expect when the UFC holds a press conference Friday afternoon to announce a whole slew of big fights filling out their cards for the end of 2018. Another potential announcement: a highly anticipated bout between Conor McGregor and Khabib Nurmagomedov. Whether this fight gets unveiled during the Friday event depends on whether the UFC manages to come to terms with Nurmagomedov's team, who refuse to participate in a big money McGregor fight without being compensated properly.
Diaz vs. Poirier could set up McGregor's next battle after Nurmagomedov. With Conor and Nate winning one each during their 2016 feud, there's big money to be made in a 2019 rubber match. And if Dustin Poirier takes Nate Diaz out at Madison Square Garden, it could be the star making performance he needs to convince McGregor to face him. But with or without McGregor at the end of the path (there are also rumors Georges St-Pierre could be next for the Irishman), Diaz vs. Poirier is a great match that should excite all MMA fans.