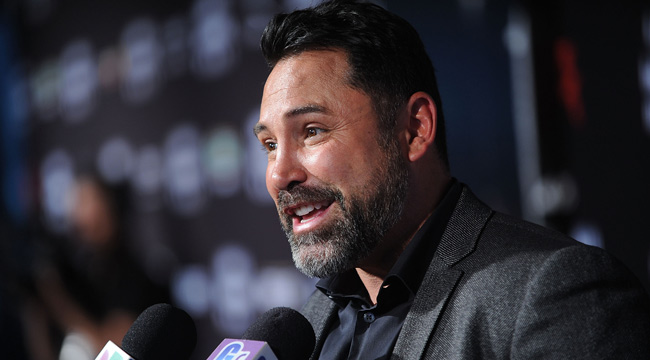 Conor McGregor may have another massive boxing superfight on the horizon.
With no one chomping at the bit to watch McGregor fight Paulie Malignaggi, it seemed like there weren't a lot of viable options left for the Irish UFC superstar in the boxing ring. But that was before Oscar De La Hoya went on DashRadio and challenged Conor to a fight.
"You know I'm competitive," De La Hoya said (via The Mac Life). "You know I still have it in me. I've been secretly training. Secretly training. I'm faster than ever, and stronger than ever. I know I could take out Conor McGregor in two rounds. I'll come back for that fight. Two rounds. Just one more. I'm calling him out."
"Two rounds. That's all I need. That's all I'm going to say."
The relationship between McGregor and De La Hoya went sour leading up to the Mayweather fight, with De La Hoya calling the match up a circus that was bad for the sport. Then Mayweather vs. McGregor grabbed a date two weeks before De La Hoya's big Canelo vs. Golovkin fight, and that only increased the tension. In the aftermath of the Mayweather fight, McGregor was screaming "F**k Oscar De La Hoya!" into cameras.
https://www.youtube.com/watch?v=Dmz40drHxCA
But just like Floyd Mayweather, Oscar has no interest in meeting McGregor in the Octagon.
"Hey, let's get it straight," he said. "In the cage, he would freakin' destroy me. He would destroy me. No, [we have to fight] in the ring."
The UFC isn't going to be happy that McGregor has another lucrative boxing option. The MMA promotion has been trying to get Conor back into the cage for UFC 219 on December 30th, but have been unable to come to terms with their star, who may have gotten a taste for boxing superfight money. With Oscar in the wings, McGregor will have even more leverage than ever to try and get another zero added to his UFC pay.