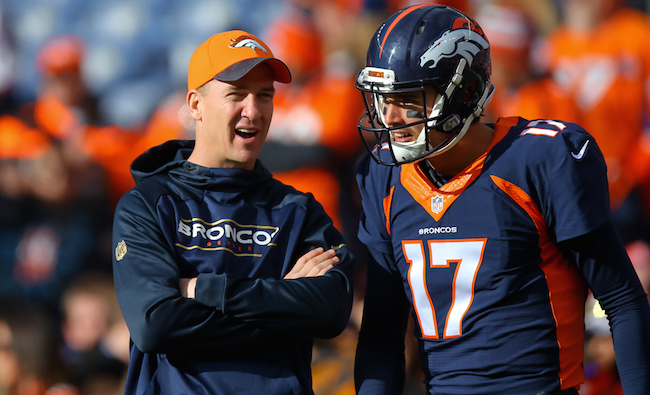 The Denver Broncos seem to be doing okay with Brock Osweiler under center, but, with reports of Peyton Manning inching closer to being healthy (or at least as healthy as he can be), there may be a bit of a quarterback controversy brewing in Denver.
The Broncos are 3-3 since the 25-year-old Osweiler took over for an injured and underperforming Manning, but, at 10-4, Denver is cruising towards a playoff appearance and many are wondering who will be at quarterback if they lockup a postseason berth. Will they stick with the guy who has been solid for them since Manning went down, or will they go back to a fading legend itching to prove he's still got something left in the tank?
A report Sunday from NFL.com reporter Ian Rapoport indicated that Manning wants his job back and will be very upset with the team if he has to serve as an active backup to Osweiler, a report which was refuted immediately by Broncos owner John Elway.
Then, after Denver's 34-27 loss to the Steelers on Sunday, Manning himself weighed in on the report, and did so quite emphatically.
"It's a flat-out lie. It's insulting. And it's distracting." Manning said. He spoke calmly but refuted the report in the strongest terms. "That's 100 percent bull—-. No. 1, it is bull—-. And No. 2, it's insulting. The worst part about being hurt is that a lot of people seem to know everything about you and speak for you, even when it's somebody you don't even know."
I guess it's up to you whether you believe Manning, who I'm sure really wants to be out there despite what he says. But, at the very least, you've got to give him credit for doing his best to put all the drama to bed.