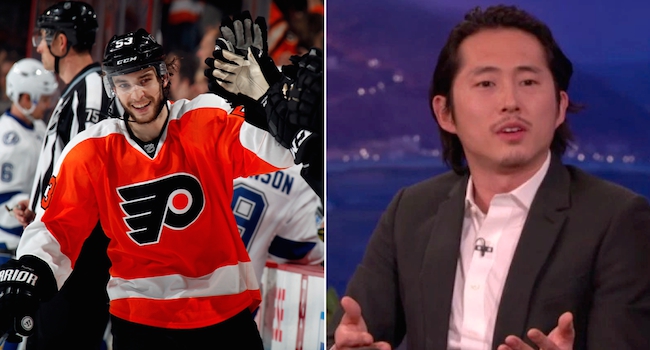 The NHL's Stanley Cup Playoffs are right around the corner, but several teams across the league are still jostling for position and trying to secure a spot in the postseason. The Philadelphia Flyers, Detroit Red Wings, and Boston Bruins are all on the Eastern Conference bubble with only two playoff spots left to be had. For those who struggle with math, that means one of those teams will be booking early tee times on the golf course instead of participating in the postseason this year.
Ahead of Wednesday night's crucial Flyers-Red Wings game in Detroit, The Walking Dead star Steven Yeun, who plays Glenn on the AMC zombie drama, tweeted his support for the Wings. Yeun grew up in Troy, with his parents owning businesses in Detroit, so it only makes sense that he'd want to support the hometown boys.
The supportive tweet was simple and innocent enough, but that didn't save Yeun from taking some serious heat from Flyers fans. Ultimately though, it was the Flyers official team account that delivered a deadly reply that only Walking Dead fans can truly appreciate.
Lucille, of course, is the name of the weapon — a baseball bat wrapped in barbed wire — wielded by the menacing villain Negan, who was just introduced in the show's sixth season finale. That last episode ended with an infuriating cliffhanger, one which featured Negan using Lucille to kill an unidentified member of the show's cast.
While it's unknown who was on the receiving end of Lucille's wrath, many are speculating (with good reason) that it may be Glenn, which is what makes the Flyers' tweet so viciously amazing. Even Yeun himself had to appreciate it.
Fortunately for Yeun and the rest of the NHL's fans, they won't be forced to wait until the fall to find out who's not going to survive the conclusion of the season.
Now Watch: Comments From TWD Cast And Crew About Season Finale Don't Add Up