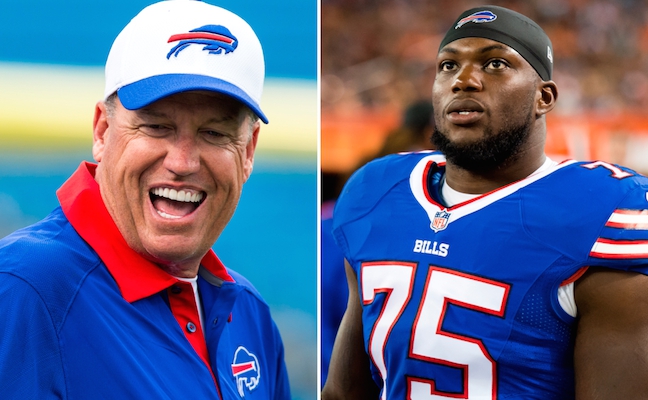 If you remember the name of Buffalo Bills linebacker IK Enemkpali, it's probably because of the off-the-field headlines he made earlier this fall rather than his performance on the field this season. Enemkpali only has two tackles on the year, but, on Monday, Bills coach Rex Ryan announced that he would serve as a co-captain against the Jets during their game this Thursday.
Enemkpali is the same guy who broke the jaw of Jets starting quarterback and then-teammate Geno Smith during an altercation this preseason. Following the incident, Enemkpali was immediately released by New York. When Ryan, former head coach of the Jets, quickly signed the linebacker, many thought it was partially to troll his old team. Apparently, he was just getting started.
Ryan has made it a habit to name player captains based on their former teams. This past weekend, he sent out many ex-Miami Dolphins players — including Richie Incognito — to take part in the pre-game coin toss. But, as a former member of the Jets himself, doesn't that mean he should be a captain himself? Funny you should ask…
Say what you want about Rex as a coach, but he is an absolute master strategist when it comes to trolling his enemies.