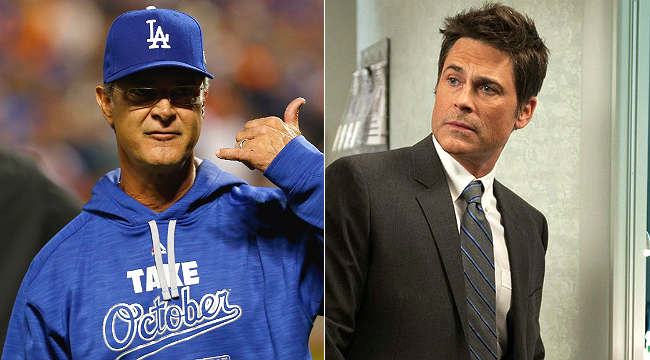 Getting booted out of the playoffs after only a brief stint in the NLDS isn't easy for any fanbase, especially when it's the Mets that boot you. It's understandable that Dodgers fans are hurting, and Rob Lowe is one of them. He, like surely many folks in Los Angeles right now, is expressing his fan grief in the time-honored fashion of calling for the manager's head.
Lowe may be right that it's simply time for a change, but that "same thing over and over" in this case is winning division titles — three in a row. Playoff results are a total crapshoot and anyone can get hot; making it to October is the real challenge, and it's one Mattingly has consistently met.
Still, it has to stick in the craw of the most free-spending front office in baseball that they can't even make it to the NLCS with Clayton Kershaw and Zack Greinke pitching all but one game of a five-game series (and pitching well!). Jon Heyman reports that Mattingly's status is an "open question" heading into the offseason, even though Mattingly has done well in some tough spots, like Corey Seager overtaking Jimmy Rollins for the starting shortstop position.
Lowe tweeted his complaint in the moments after the Dodgers lost, so maybe now that he's had time to sleep on it, he'll come to his senses and realize Mattingly's a pretty darn good manager.