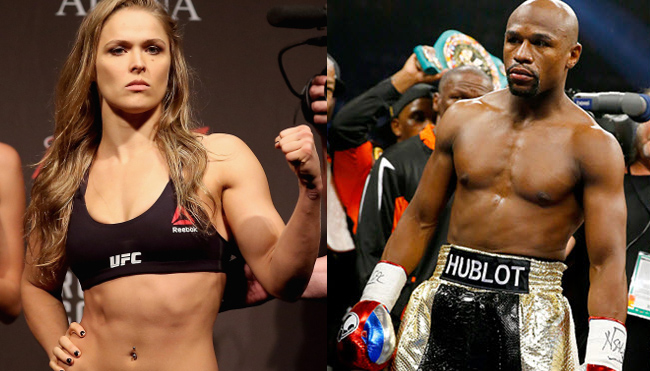 If Floyd Mayweather thought he could end his ongoing feud with Ronda Rousey simply by "wishing her nothing but the best," he was wrong. TMZ Sports caught up with the UFC champion to talk about her upcoming fight with Holly Holm on January 2, and the Rowdy one offered up these unsolicited words on Money Mayweather (transcription via Bloody Elbow):
Rousey: "He said 'You make $300 million a night, then you can give me a call', and I actually did the math and given the numbers of my last fight, I'm actually the highest paid UFC fighter and I'm a woman. I think I actually make 2-3 times more than he does per second. So when he learns to read and write, he can text me."

Reporter: "So per second, you actually earn more than he does?"

Rousey: "Yeah, I'm just a little bit more efficient."
It's kinda hard to fact-check Rousey's comment because UFC fighter pay is so murky. The promotion is forced by law in some states to disclose a fighter's purse, but has largely gotten around that requirement by not including signing incentives, locker room bonuses, and pay-per-view cuts. While Ronda officially made $130,000 for her fight with Cat Zingano, according to paperwork filed with the California State Athletic Commission, her actual pay was probably closer to a million dollars.
Yahoo Sports' Kevin Iole has estimated that Rousey may have made as much as $5 million including sponsorship off the Bethe Correia fight at UFC 190. But let's split the difference and use a conservative number like $2.5 million dollars for this math. That estimate factors in purse, bonuses, and PPV money. On Mayweather's side, we have his fight with Manny Pacquiao where he took home $180 million.
That fight, like Floyd Mayweather's past five fights, went the full 12 rounds. That's 36 minutes, or 2,160 seconds, which works out to $83,333 per second. Ronda Rousey's fight with Bethe Correia lasted a whopping 34 seconds (pretty long by Rousey standards), which works out to $73,529 per second. Ooh, so close, Ronda!
But Ronda Rousey can take solace in the fact that it took the biggest fight in boxing history to beat her per second earnings on a fight people won't even remember a year or two from now. Floyd's next payday isn't nearly as sweet: $35 million, plus pay-per-view percentages for his September match with Andre Berto. And after all the grousing over the lackluster Pacquiao fight, there's a chance Floyd's days of pulling in a million or more buys at $65 a pop are over.
(via TMZ)