EA SPORTS selected Russell Westbrook as its NBA LIVE 16 cover athlete. Uproxx Sports was given exclusive access to the Thunder star as he went through motion capturing, body scanning and a photo shoot at one of the company's EA SPORTS studios in Vancouver on May 29 in anticipation of the cover reveal on Tuesday.
"Russell plays every game like he has something to prove," EA SPORTS VP of Marketing Anthony Stevenson said in an official release. "Our team is building NBA LIVE the exact same way, so we're thrilled to have him as an ambassador for our game."
The game is Westbrook's first cover, although with the way he's been playing the past few seasons, if anything, it's hard to believe it took this long.
The Playlist
VANCOUVER – It's close to 10:30 a.m., and Russell Westbrook is finally comfortable. He's peering over a table at his iPhone, scrolling through songs. It's time for him to do his stomp celebration, but first he needs new music. Someone off to the side remarks that it is his playlist that's playing. Westbrook looks up and smiles. "It is my playlist," he says. "This is what I listen to."
Meghan Trainor's "Dear Future Husband" is abruptly cut off in favor of "Pull Up Stuntin'" by Joe Moses. Westbrook starts dancing on the side to get his mind right, leaving everyone with a pulse chuckling as he makes his way to the court.
"I like all types of music," Westbrook says. "I like Taylor Swift and Meghan Trainor. I like Drake and Lil Wayne. It mixes for me. It gives me a good balance to have a good mix of music."
Westbrook recently put up an Instagram of him bouncing to "Bad Blood," and Swift shouted him out on Twitter. "That was a great thing," he says. "I didn't expect it at all. But it was a good thing. She has great music. I'm a big, huge fan of hers and what she brings to the music world. I was grateful to see that."
Russell got into his Vancouver hotel around 2 a.m. the previous night and was up about four hours later to head over to the EA SPORTS facility. Westbrook is always on time, which is rare for any other athlete of his caliber. When he's supposed to be somewhere, he's there. It's like that old maxim you'll hear uttered in military families: "To be early is to be on time. To be on time is to be late." This comes from how he was raised, and Westbrook attributes it to something his parents, especially his mother, taught him when he was young.
"I'm aware of other people's time," Westbrook says while seated in a chair in the EA SPORTS Think Tank a few minutes after lunch. He's relaxed and at ease, wearing Oklahoma City Thunder shorts and a white tee. "I think it's important when someone asks you to be at a place at a certain time, it's important to be there and be ready to go."
When someone asks you to be at a place at a certain time, it's important to be there and be ready to go.
The Thunder star has been selected as this year's NBA LIVE cover athlete, and the game team wants to run him through body scanning, motion capture, voiceover and a photo shoot. He's naturally sleepy-eyed at first, and he's sizing up everyone around him. Russ is constantly watching and looking around, and he seems to hear everything even if it appears like he's not listening or paying attention.
This can be an intimidating experience. Although Westbrook is used to people being in his face, this is something no one can really prepare him for. There are cameras everywhere – more than a hundred of them – capturing his every move, and he's being placed in a body suit covered with markers, those little balls that light up and allow the player to physically get in the game.
Westbrook is fitted with a black cap that covers his head and makes him look like a Teenage Mutant Ninja Turtle. His shoes are covered with black tape that doesn't want to stay on, and he is given gloves that hinder his range of motion a little bit. He's going to have to shoot, and he notices this will take some getting used to. "Am I supposed to be shooting?" Westbrook asks jokingly. "With this? I already can't shoot as is. Maybe it works. There's another side to that, too. Maybe it works."
It's clear from the get-go that Russell's patience will be tested throughout the day – he just wants specific directions and a rationale for what he's being asked to do – but he is genuinely enjoying the experience. He snaps a couple selfies inside the body scanner, throwing up the deuces, before being shown a still of the game where he's asked if the haircut they went with will work. "Yeah, that's good," Westbrook nods. "My hair's going to change in a month anyway."
The Capture
Once he gets on the court, any jitters seem to melt away. Yes, the whole cavernous room is copped straight from the set of Tron. Sure, there are too many people giving him instructions and asking him to do stuff. But he has taken control of the music, opting to go with the playlist on his phone over the tracks EA put together to play over the speakers. And there's the fact that after all the layers of technology and noise are stripped away, he's still just being asked to play basketball for a couple hours.
Lead animator Ronen Lanovoi and senior game designer Ryan Santos are very cognizant of the fact that, to have a successful day, Westbrook has to be relaxed. The only way to truly capture Russell's essence, so to speak, is to have him act natural. That's why they've brought in former Cal and Seattle guard Emerson Murray. Murray's job is to push Westbrook a little bit and give him another player to bounce things off of.
"He's a video game," Murray says. "Nobody should be able to do that."
Lanovoi and Santos tell the two players to play a little one-on-one and take shots over each other. Fortunately, the glove Russell is wearing will not be a permanent addition to his gameday apparel, as he has some trouble getting his shot to go, while Emerson adjusts a bit more quickly. After Murray drains a couple shots over Westbrook, Russell remarks, "'I've never been scored on this much in my life."
The competitive fire is there even in what is supposed to be a calm day, and Westbrook starts getting some buckets after that. He locks in as the group moves onto the shot list, which includes taking jumpers, shooting threes, dribbling, going through tip offs and simulating dunking, among others.
Russell gets so focused that he often forgets to do the "T Pose," standing with his arms outstretched to his sides, a reset button so to speak for the motion capture signaling that this move has been finished to completion.
We could've put a school girl out there, and he still would have tried to dunk on her.
"Russ came out here and he's never done motion capture before," Lanovoi says. "I was worried we wouldn't get everything out of him, but when we brought him on the floor, we had Emerson come out and we did that intentionally because we wanted somebody for Russ to play off of. Every athlete no matter who you are, you're competitive. We could've put a school girl out there, and he still would have tried to dunk on her."
Westbrook is always in motion. He flicks his wrists, bounces on the balls of his feet and nods his head. He loves to dance, and can't help himself even when he's being asked to do something else. In a short five-minute break before it's time to capture free throws, he puts on some Hozier, doing an almost spot-on impression of the Irish singer's deep voice.
Right before he shoots from the stripe, Russell sings a Drake line from a Fetty Wap song, "cancel out my ex, I put a line through that" making an 'X' with his arms before calmly swishing the shot.
"I love dancing," Westbrook says. "Dancing is a hobby of mine. I don't do it as much as I want to, but I do dance a lot. I like to get down a little bit."
The Documentary
The Archetype
In a lot of ways, Russell Westbrook is the perfect choice to be on the cover. For starters, there are only a handful of players in the league who can do what he does. He led the league with 11 triple-doubles during the 2014-15 season, and he has that explosive mix of scoring ability, court vision, hot shooting and killer finishes that players gravitate toward. He's exactly the kind of point guard you strive to become when you go through the Create-A-Player portion of the game.
"When we started to bring up that self-expression point, Russell's name came up a bunch," Santos said. "As he went on a tear during the end of the season, dropping triple-doubles all the time, we just thought: He's ready. This guy could be a great fit for us. He's the perfect archetype for us in terms of what these kids can aspire to be just because he can do it all."
He's the perfect archetype for us in terms of what these kids can aspire to be just because he can do it all.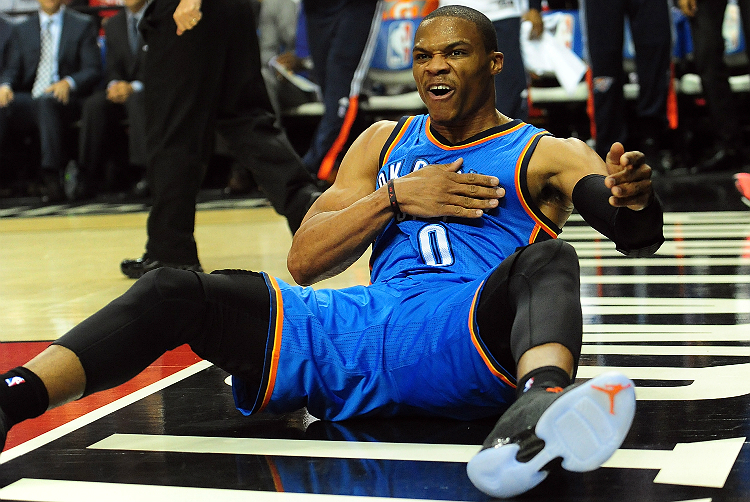 The fact that Westbrook is such a compelling and complicated individual off the court is only an added bonus. His fashion sense lends itself well to the customization of the game. He's among the most competitive players in the league. He's private enough that people naturally want to know more about him and devour any information they can get on him. And he's extremely active with his charities, including the Why Not? Foundation and Russell's Reading Room. Reading's extremely important to him – he has three more reading rooms he plans to open soon – and he caught the reading bug from Ann M. Martin's "Missing Since Monday," a title he read a lot growing up.
"I think reading is one of the most important things for kids growing up in the inner city," Westbrook says. "I was one of those kids. I think opening reading rooms and giving kids the opportunity to have access to books and find ways to forward with their intelligence is important. Whenever I do anything – Why not? I think it opens a lot of doors for you, as a kid, as an adult, whatever. I think it puts you in a position where you can tell yourself, 'Why not?' and just move forward. Don't worry about the consequences. Don't worry about what other people say about you. Just move forward with what you want to and what you want to be in life."
The guard doesn't have much time to read lately, especially on a packed day like this. He still has to deal with a constant barrage of flashbulbs and even more step-by-step directions. Into hour five on-set, Russ's eyes started going a bit and the drain of the day was wearing on him.
There's voiceover scripts to read, and he's going to need a bit of extra energy to deliver them effectively, although Westbrook says not to worry – he can do them in one take. After a deep breath and a couple of dribbles, Russell catches his second wind and starts getting the giggles. He's back to smiling, laughing, and joking around.
He pops a dance that ends in him flexing with a basketball held under his other arm. He looks over to his manager and grins, saying, "Time for Dancing with the Stars!" Then, he turns back to the director of the photo shoot, nodding in reply to the next request.
Westbrook puts on his game face, bends at the hips and takes three hard dribbles at the cameras.