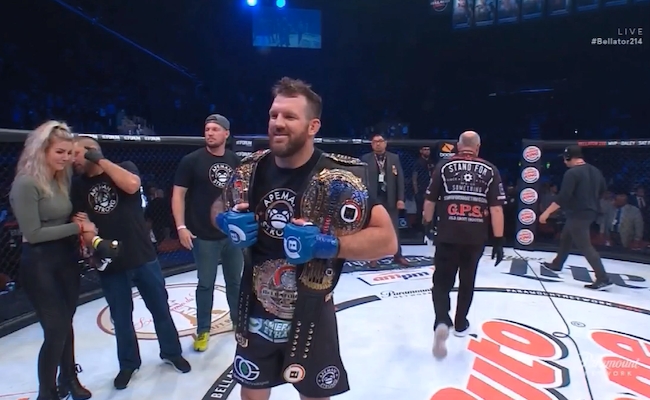 Ryan Bader stunned the MMA world with a one-punch knockout of Fedor Emelianenko in the main event at Bellator 214 from The Forum in Los Angeles, making him the first two-division champion in the promotion's history.
Bader dropped Emelianenko with a slipping left hook to the jaw, sending the 42-year-old heavyweight legend falling backwards. Bader connected on one more punch while on the ground, at which point the referee called the fight after 35 seconds.
Bader is the last man standing in the Bellator Heavyweight World Grand Prix Tournament, claiming the promotion's heavyweight crown and becoming Bellator's first two-division champion, also holding the light heavyweight belt as well.
Bellator advanced in the Grand Prix tournament with a finish over King Mo in May before earning a decision victory over Matt Mitrione in October. Emelianenko won his first two bouts with finishes in the first round, knocking out Frank Mir in 48 seconds in April before TKO'ing Chael Sonnen in October.
Bader (27-5) announced after the bout he plans to defend both belts, but he needs to regroup with his team to decide what's next as he looks to expand on his seven-fight win streak. Emelianenko moves to 38-6 on his career with the knockout loss. He has been knocked out twice now in the last three years, with his last loss coming in June 2017 at the hands of Mitrione.