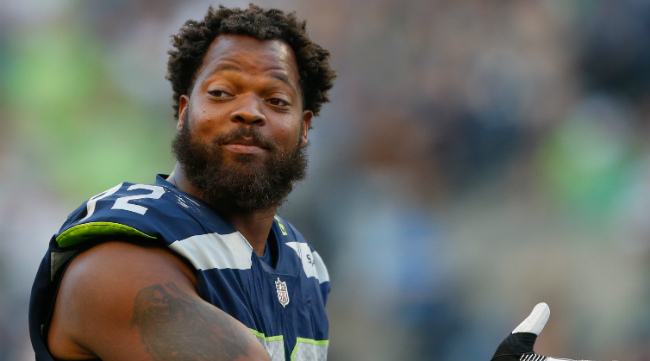 The Seattle Seahawks are moving one of the cornerstones of their revered defense. Reports indicate that Michael Bennett, the Pro Bowl defensive end who joined Seattle in 2013 and won a Super Bowl with the franchise, will be traded to the Philadelphia Eagles. The news come on the heels of a report that All-Pro cornerback Richard Sherman's time with the Seahawks could be coming to an end sometime soon.
The news of Bennett's trade to the Super Bowl champions was broken by Josina Anderson of ESPN.
A minute later, Adam Schefter of the Worldwide Leader in Sports chimed in with some details. Bennett and a seventh-round pick will be heading to the City of Brotherly Love, while the Eagles will send back speedy 23-year-old wide receiver Marcus Johnson and a fifth-round selection.

Bennett has been one of the NFL's premier defensive ends during his five seasons in Seattle, recording 39 sacks in the pacific northwest. This past year, Bennett started all 16 games for the Seahawks, accruing 40 total tackles and 8.5 sacks.
Bennett joins an Eagles defense that was perhaps the most aggressive in the NFL this year, but wasn't always able to get into backfields, ranking tied for 15th in the league in sacks on the year. Adding Bennett will certainly make Philadelphia's defensive line a little scarier as the team gears up to defend its Lombardi Trophy next year.