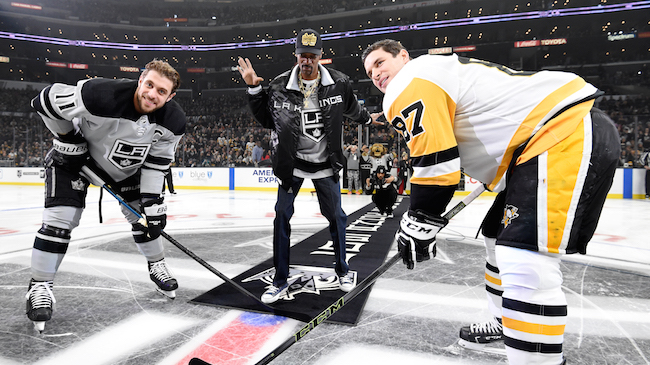 Hockey, like every other sport, is trying to figure out ways to get younger fans into the game — and just casual sports fans.
The in-arena experience for hockey is as good as most any live sporting event experience, but the game doesn't translate quite as well on television. Great announcers can help, as they can enhance the intensity of the game by making sure the tension of each moment comes through. Doc Emrick is the best at this, but not all hockey play-by-play announcers are created equal.
On Saturday night in Los Angeles, the Kings hosted a 90's night at Staples Center and had Snoop Dogg DJ'ing in the arena for the occasion. Late in the first period, Snoop popped up to the announce booth and they let him call the game for the entirety of a power play, and the result was spectacular television.

Snoop isn't Doc Emrick, but he brings an air of fun to the broadcast that is, frankly, quite refreshing. He doesn't know everyone's names, but that's alright, and the game moves incredibly quickly so it's hard to get names in there anyways. He bounces between trying to call the action, reacting to what's happening, and imploring the Kings to do something, which would be a disaster on radio, but on TV it works wonderfully.
Snoop is the voice of the casual hockey fan in the booth as he gets frustrated by their refusal to take a shot when they have an opportunity, just yelling "Who want the money?!" Snoop is the voice of the people and someone should make him the voice of their hockey team.