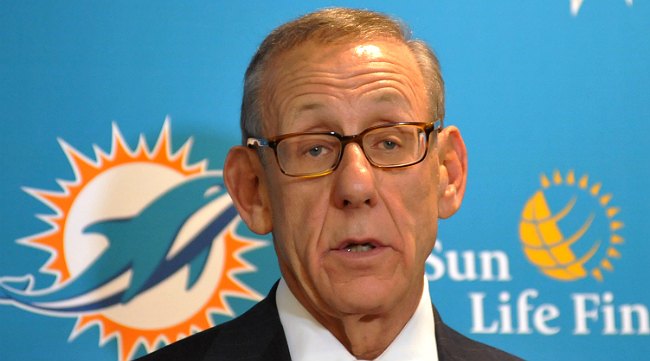 The Miami Dolphins are a candidate for most disappointing team of the 2015-16 NFL season. Miami was supposed to contend for a playoff spot in the AFC, but ended up only winning five games (I'll go ahead and chalk their week 17 matchup with the Patriots as a loss before the game even happens) and fired their coach Joe Philbin midway through the season.
Owner Stephen Ross is not a popular man in Miami these days, but Ross still thought it was a good idea to put out a message on the Dolphins website thanking fans for their support and vowing an extensive head coaching search led by former Jets general manager and current Dolphins Executive Vice President of Football Operations, Mike Tannenbaum. Ross' note reads:
Dear Dolfans,

As we enter our final game, I want to simply say, thank you.

I had high expectations headed into this year and the on-field results have been disappointing… for you, our staff, our coaches, our players and alumni players, and certainly for me. Through it all, your support has been unwavering. We had capacity crowds at every home game and thousands of you joined us on the road. Everyone at the Dolphins appreciates your consistent loyalty and support.

This team belongs to you. It belongs to each one of you who has been here through it all; both our celebrations and our challenges.

There are no shortcuts or magic formulas to winning. I know it will take hard work for us to get where we want to go and I can assure you that everyone at the Dolphins is working hard to honor the proud winning tradition of our great franchise.

We are going to conduct a thorough process led by Mike Tannenbaum to select our head coach that will not be constrained by convention in our approach. This search will be thorough and we will take it wherever we need to go. I appreciate everything Dan Campbell has done this season and he has earned the opportunity to be considered for head coach. We've also identified several promising candidates and will begin work immediately.
We will have more to say on that topic following the season. Your support is a critical element to our efforts to build a winning team and we all appreciate you. I look forward with optimism to more celebrations in the future together.
Stephen Ross
Miami Dolphins
The Dolphins official Facebook page shared Ross' message, and unsurprisingly, the comment section has turned into an angry mob of fans who want nothing more than for Ross to sell the team.





One Twitter user even responded to Ross with an email that is decidedly NSFW due to language.
The worst part for all of this for Dolphins fans is that there is virtually a zero percent chance that Ross read or cares about any of their comments.