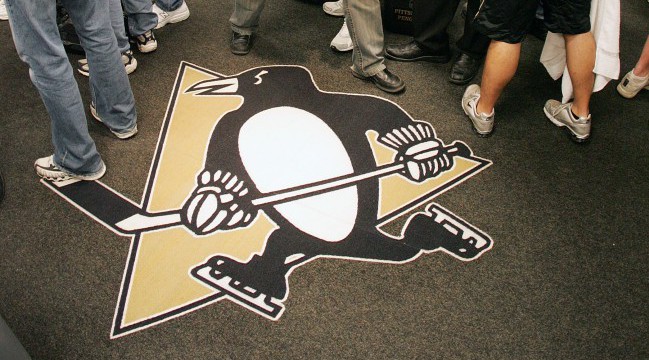 There's an unwritten rule (always the worst rules) in hockey that states if you're in a team's locker room, you better not step on the logo that is emblazoned on the floor. Do so, and you will feel the wrath of that team.
Five days into the Stanley Cup Playoffs, we already have our first Logogate or Loghazi situation.
That led to the correct and expected response from former player and the best hockey analyst in the business, who has no time for this nonsense.
To be clear, not all teams participate in this stupid tradition — the New Jersey Devils have a tiny logo on their floor that you can step on and no one cares. On the walls near the ceiling, they have drawings of all the trophies the team and players have won over the years, so if you want to step on Martin Brodeur's Vezina Trophies, you better be in a Lionel Richie video or conducting an inception.
How does this happen every year? Good question.
You almost never hear about this during the regular season because it's media members on a beat who know the stupid rules. They avoid stepping on the logo because they don't want to deal with this. But come playoff time, media outlets that haven't covered a game all season are on the scene and, through no fault of their own, aren't aware of the idiotic custom like Cal Clutterbuck and it results in yelling and shaming.
That's the other part of this — no one is ever told, "Pardon me, we here with the Islanders would greatly appreciate it if you could avoid stepping on our logo whilst conducting your journalistic endeavors within our locker room. Thank you for your understanding on this matter that means a great deal to us."
No, it's always, "WTF BRO GET YOUR DUMB FEET OFF OUR SACRED LOGO THAT WE FOR SOME REASON HAVE DECIDED TO PUT ON OUR FLOOR!"
Imagine being a guest in someone's home for the first time and getting aired out because you didn't know Kevin and Molly prefer you take your shoes off at the door, but never told you upon entrance. Then imagine having people tweet at you for hours that you shouldn't complain because Kevin and Molly have a sweet house and you should feel lucky to be there.
Anyway, the hockey playoffs are here. Prepare to read logo stories all day Monday.