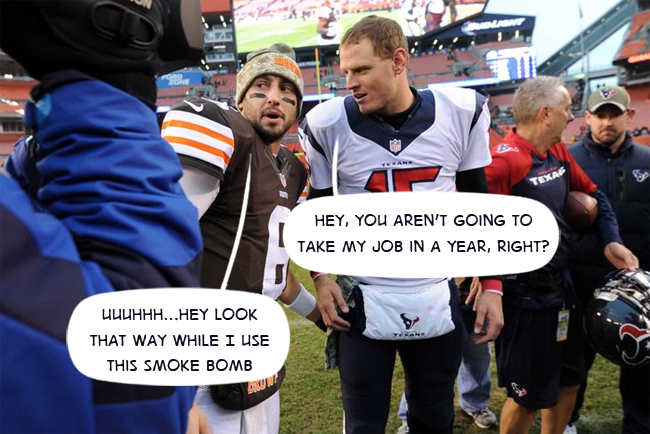 I hope you weren't really invested in the quarterback battle in this season of Hard Knocks, because the Texans just released a massive spoiler: Team Hoyer has come out on top! The legions of Hoyer fans can rejoice! Bill O'Brien was truly the bell of the ball, torn between two steamy quarterbacks to lead his team. On one hand, Brian Hoyer, the bald 300-year-old QB on the run from Cleveland, teased O'Brien with experience and leadership personality. On the other hand, Ryan Mallett, perennial backup, enticed O'Brien with his sultry potential and possibility of hooking him up with some drugs on the down low.
All signs should have pointed to Mallett getting the job. O'Brien worked with Mallett in New England, then traded for him when he became the coach of the Texans. Last year, after Ryan Fitzpatrick decided to go full turd (in mid-season, as Ryan Fitzpatrick does), Mallett was handed the starting job and proceeded to look actually alright against the Hoyer-led Browns, before promptly tearing his pectoral apart against the Bengals the next week. But this preseason Mallett has been up and down and Hoyer simply had the experience to win the job.
This news comes as yet another huge blow to the four members of Team Tom Savage.