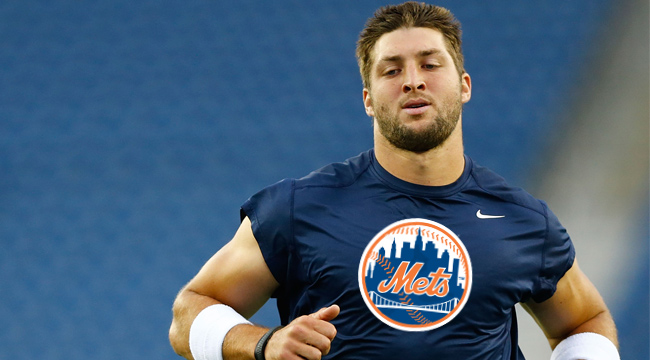 Considering how often this team's fans look to the heavens and exclaim, "Jesus Christ!" perhaps we should have seen this coming — the New York Mets have signed Tim Tebow to a minor-league contract, the team announced on Thursday.
After his workout, the Atlanta Braves were reportedly interested in Tebow's services.
You really have to appreciate the Mets calling him an outfielder based on one workout and where he played in high school. If they were going to label him based on what he did as a teen, they should have called him "prom king" or "most likely to impose his religious values on people from another country."
Tebow, who spent one season with the New York Jets, aka New York's other football team, is now part of New York's other baseball team. Mets fans have prayed for a savior for years; maybe they should have been more specific.
This means Tebow will probably spend the offseason in the fall instructional league. The Mets' minor-league affiliates include a team in Port St. Lucie, Fla., which is about three hours south of Gainesville, where Tebow played for the Gators. Should Tebow reached Triple-A, he'd play in Las Vegas, aka Sin City. If there was ever an athlete you wouldn't have to worry about being tempted by all that's available in Vegas, it's Tebow.