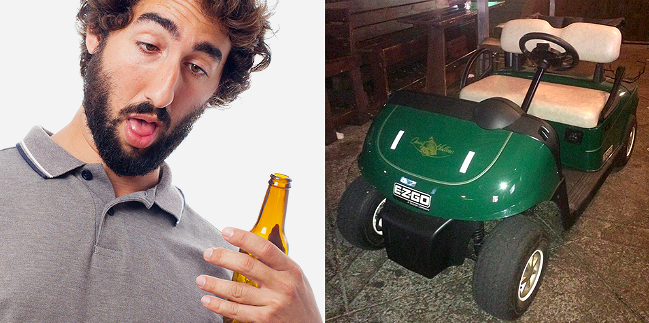 Let's start this with a disclaimer: This story could be total bullsh*t. It's from a site called Total Frat Move and cites "sources." But we want to believe it's true. We want so badly to believe. So here it is…
Last week, Charlotte hosted its annual PGA Tournament event, the Wells Fargo Championship at Quail Hollow Country Club. As a Charlotte resident, I can confirm that this event is known first as a place for young men and women to have a good time and hopefully exchange some phone numbers, and second as a place to watch athletes who have mastered their craft. I don't know if this is true for all golf tournaments, but it is definitely true for this golf tournament.
According to Total Frat Move, a couple of the aforementioned young bros decided to steal a golf cart from the country club sometime during Sunday's final round. But they didn't stop there. They proceeded to drive the cart five miles to Selwyn Pub, which is an important detail. If you asked anyone in Charlotte, "What bar would drunk dudes go to after Quail Hollow?," 10 out of 10 people would say Selwyn Pub. This is what makes the story believable. Well that, and this photo of the cart — with the Quail Hollow logo on it — parked inside the Pub, on its patio:
A co-owner of Selwyn Pub, Jim Foster, confirmed that there was indeed a Quail Hollow cart left at his bar:
[H]e got a surprising call over the weekend from one of his bartenders.

"He said, 'You'll never believe what somebody left, its a golf cart!"

"Its a bit of a mystery," said Foster, "We don't have any hard evidence on it, we just had to work from the golf cart backwards and say, 'Jeez, I wonder how that golf cart got here'."
The club has refused to comment on the incident, but the cart was picked up the following day by staff from Quail Hollow. So it seems the best explanation is also the most hilarious one: Two drunk bros successfully pulled off one of the greatest total frat moves ever.
(Via Total Frat Move, TWC News)