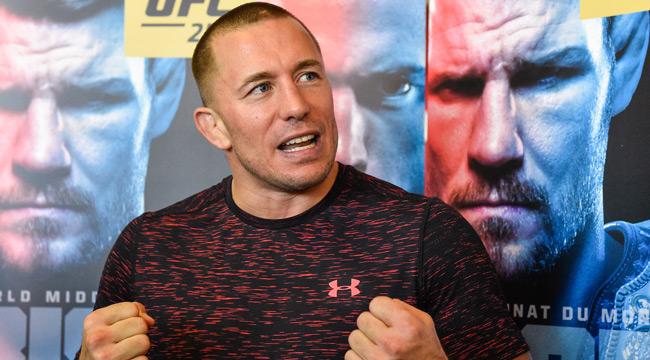 Conor McGregor is set to fight Khabib Nurmagomedov on Oct. 6 at UFC 229, and that's a huge fight on it's own. McGregor and Nurmagomedov have beef that landed McGregor in legal trouble for months, and now they finally get to settle things in the cage. But what could come next would be even bigger: a fight between the winner of that match and legend Georges St-Pierre.
St-Pierre was the reigning 170 pound UFC champ from 2007 until 2013 when he gave up the belt to take what turned into a four year sabbatical. He returned in November of 2017 to win the 185 pound title off Michael Bisping, only to drop it and step back once again, this time over a bout of ulcerative colitis. Those health problems are nearly resolved, and now GSP is looking to take on the winner of McGregor-Khabib … if the UFC will let him.
"I would be interested in that fight," St-Pierre told Submission Radio. "That's a win-win situation. It's a legacy upgrade and it's good money. It's gonna be a big fight. However, I fought at 170, I relinquished the title and I fought at 185, I relinquished the title. I don't think the UFC will let me fight for the title at 155. They will be afraid I'll relinquish and I'll leave the division in ruins again."
"From my perspective it's a very winning situation, for the UFC it's a big risk for them."
You'd think the big bucks GSP brings in for the UFC would smooth over any differences, but Georges and UFC president Dana White have been butting heads endlessly since St-Pierre took a break back in 2013. It took a special mediator to work out a deal for St-Pierre's return against Bisping, and we imagine a similar difficulties even if a call out from Khabib or Conor comes after their UFC 229 fight.
Nurmagomedov has already stated that he wants to fight St-Pierre soon, and it just so happens that Khabib is the guy Georges thinks is gonna win.
"If I had to bet, If I had to put my house on it – the biggest one – I would have to choose Khabib over Conor," St-Pierre said. "Khabib never lost, he never lost, and Conor has lost before. He's lost on the ground. He has a few losses and he lost on the ground. That's where Khabib is good, that's where Khabib is more competent."
"However, Khabib is sometimes a slow starter and he gets punched a lot … And it's hard sometimes to close distance, he had a problem to close the distance. But once he's got you in the clinch he's very good. So, I believe the chance, the house goes in Khabib's favor."
The bookies are in agreement, with Khabib opening a -175 favorite to Conor's +155 status. But as we've learned time and time again, we shouldn't doubt Conor McGregor … except maybe when he takes on the best boxer in the world.