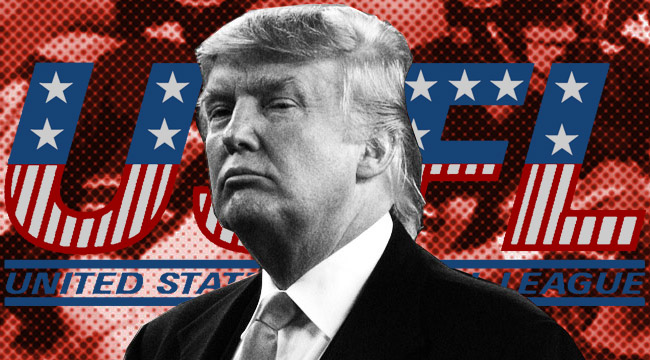 The NFL owns Sundays in the fall and winter and commands the attention of a great number of red-blooded Americans, thrilling them with a bit of high drama and (heavily officiated and regulated) gladiatorial combat. This is unchallenged despite the presence of several other easily-accessible entertainment options and the league's knack for finding headline-grabbing scandals. Like all other major sports, the NFL's dominance has insulated it from competition. It's a monopoly that's still picking pieces of Vince McMahon's XFL out of its teeth.
Now, in 2016, despite any perceived weakness, no one would dare mount a campaign for the hearts and minds of football fans unless they possessed a financial death wish and a burning need to be publicly embarrassed. But back in 1982, the NFL found itself in a different state with a media landscape that made competition feel like a more viable option.
Just 13 years after the AFL merged with the NFL (less time than it's been, presently, since the XFL's lone season), a new pro football league was in the works; a league that sought to give fans a real alternative with new teams and players, new rules and regulations, and even a new setting — one that moved the action to the Spring and Summer. It presented itself to be everything that the 'No Fun League' wasn't.
The United States Football League (USFL) was a massive undertaking that had been meticulously planned for years, though it folded after just three seasons. While several factors played a part in the destruction of the League, most of the blame gets assigned to Republican Presidential nominee, Donald Trump.
It's impossible to talk about the USFL without also talking about Trump, who was known at the time as a New York real estate mogul who bought the New York/New Jersey Generals after the league's first season. Almost immediately, it became apparent that Trump wasn't interested in being a part of an up-and-coming spring and summer football league. Instead, Trump wanted to take on the NFL, and leveraged his position as a team owner to do just that. What resulted would ultimately lead to the league's undoing, but as we all wait to see if Trump will get a chance to be the most powerful person in the free world, it's fair to reminisce about the USFL, ponder Trump's impact on it, and wonder what might have been had he not gotten involved.

A Different Kind Of League
The USFL was formally announced on May 11, 1982 at the 21 Club in New York City. According to Bleacher Report, the league was the brainchild and 15-year obsession of New Orleans art and antique dealer David Dixon, who played a role in bringing the Saints to New Orleans in 1965 and wanted to loosen the NFL's tight grip on pro football. Eventually, Dixon came up with an idea to have a football league that played throughout the spring and summer, and in 1980 he hired a marketing firm to investigate whether that idea stood a chance.
The outline for the league would become known as The Dixon Plan. The league's 12 host cities were all substantial TV markets that held appeal to the networks (including ESPN, who aired USFL games before they ever got into the business of running NFL games). With nine of the 12 cities also home to NFL teams, it's clear that the USFL was comfortable wagering that football-crazed fans had room in their hearts (and their TV schedules) for a spring football fling as opposed to trying to court fans in markets without an existing pro football infrastructure. It was a bold incursion into NFL territory that was bolstered by the recruitment of regional college talent to leverage their celebrity in a year-long promotional effort to build a fanbase.
Though the planning for the USFL had long been underway, the public announcement in 1982 of the league's formation occurred just four months prior to an NFL player strike in the NFL that began on September 20. Players, according to the Los Angeles Times, felt as though their backs were up against the wall. Ed Garvey, the head of the National Football League Players Association (NFLPA), argued that the NFL was "unalterably opposed to a wage scale" and represented unfair labor practices. Garvey went after minimum salary scale, insurance and retirement benefits, a severance pay system, and a 55 percent cut of revenue. It's been thirty-four years and the league is only sharing 47-48 percent of revenue with players.
Although the strike was eventually settled, it cost the league seven weeks worth of games and $250 million in revenue. The only games that went on during the strike were two lightly-attended AFC-NFC "all-star" games that were arranged by the NFLPA and media mogul Ted Turner; a muted effort compared to the 28-team alternate league that had been initially discussed and scuttled by legal challenges. After the strike ended, a nine-game schedule was thrown together, allowing the league to wrap up what Lions owner William Clay Ford called, at the time, "an asterisk season."
The ESPN documentary Small Potatoes: Who Killed the USFL, saw that NFL strike, along with the rising popularity of cable TV, as major factors that helped benefit the USFL in its early days. The documentary's director, Oscar-winner Mike Tollin, ran the company Halcyon Days with his partner Gary Cohen, who described their company as "the NFL Films of the USFL."
Speaking with Uproxx Sports about his time working around the newly-formed pro football league, Cohen said that the USFL was "really a start-with-nothing kind of a thing. It was based on an idea and the people involved were unified in their approach and because the expectations were manageable."
Assessing the USFL after its first season is a mixed bag. Only two of the 12 teams managed to not lose a serious amount of money, though there were adequate ratings, as well as game attendance that fell in-line with Dixon's projections. Despite the League's efforts to control costs, not everyone adhered to these reasonable expectations, like the New Jersey Generals, who outright ignored the League's salary cap of $18 million. Most of the financial shortfall, it turned out, was caused by unanticipated expenses from players' salaries.
Despite all that, many of those involved, including Cohen, were happy with the League's first season.
"The narrative that the first year was successful was, I think, pretty generally accepted and created opportunities for the owners," explains Cohen. "My assessment at the time and since, still, is that of the 12 original USFL cities, you could write a success narrative in eight of them in that first year. Some of them did really well at the stadium and the live tape, some of them did pretty well on TV. Some of them had compelling characters and good players. Some of them had strong ownership faces. Most of them had strong ownership, you know, that understood the business plan and the model."
Sportscaster Adam Rank agreed that the USFL was doing well for an upstart sports league and in 2013 wrote for the NFL's website that the timing of the league "couldn't have been better" and that it was "the perfect opportunity for a spring football league. It should've worked. Hell, it would have worked were it not for Donald Trump."
On March 6, 1983, months after pro football fans had been robbed of their only fix for two months of depressing reminders that the NFL was a business, a new, vibrant alternative surfaced with the USFL. While it's possible that it would have taken years to end up on equal footing with the long-established NFL, everything seemed off to a promising start as owners eagerly courted exciting talent and presented game action with a playbook that was ahead of its time. Sadly, all that would be completely upended not long after.

Trumping The Dixon Plan
"At the end of the [first] season, all kinds of other forces took play," said Cohen, who added that it was "important to remember that it was the '80s [which] were really sort of the beginning of a transformation in this country in terms of the way the financial world worked, like capitalism worked. There was a lot of get-rich-quick sensibility kind of all over the place."
It was amidst this cultural transformation of the United States that New Jersey Generals owner J. Walter Duncan, a resident of Oklahoma, grew tired of being an absentee owner. Donald Trump had just built Trump Tower in New York City and was becoming known as a real estate tycoon. Trump bought the Generals from Duncan in August of 1983 for a mere $10 million, though Trump later claimed it was only $5 million. From the get-go, Trump was adamant about moving the USFL to the fall, and that "if God wanted football in the spring, he wouldn't have invented baseball."
"He was merely a regionally known rich guy in his mid-30s, buying the Generals from a wealthier man, J. Walter Duncan," said New York Times best-selling sportswriter Jeff Pearlman, who is presently working on a book on the history of the USFL and its players. "When Trump bought the team, before the second season, people were positive about the league. It had TV deals with ABC and ESPN; it signed the last two Heisman Trophy winners (Herschel Walker and Mike Rozier); it was expanding from 12 to 18 teams; it was stealing more and more NFL players."
While the League expanded — perhaps prematurely — in its second year, Pearlman says the addition of Trump was one of many "new, deep-pocketed owners" who bought their way into the fold. At least at first.
"He made overtures to buy an NFL team before," said Cohen. "Had been clearly rejected and thought, 'Fuck, I'll buy the New York USFL. I can parlay this into publicity and exposure and whatever which is good for my brand. Eventually, we'll merge with the NFL and then I'll have an NFL team."
Cohen clarifies that this has never been articulated, but that it is a "sort of the consensus amongst those informed insiders about his motivation."
That motivation would help explain why Trump veered away from the Dixon Plan so blatantly. Instead of being frugal with money, owners were spending recklessly in order to lure in new talent. As Pearlman explains, Trump was hardly the league's only "outlandish, ignore-the-founding-philosophy big spender."
"George Allen in Chicago was throwing big bucks around. So were the Michigan Panthers. The same year Trump came along, Bill Oldenburg bought the LA Express and tossed money everywhere. He was as bad as Trump — actually worse, because he didn't have the dough."
"[Trump] would manufacture his events and it worked," explained Cohen. "You know, he would sign big players, first Brian Sipe, a safety from the Bears, Jared something-or-other, and then Doug Flutie a year later. He signed Lawrence Taylor at one point and then sold his contract back to the Giants."
Trump may have excelled at generating headlines (and finding creative ways to make money, like the Taylor contract situation), but his football acumen left something to be desired. This is proven by what MMQB describes as an insistent pursuit of Doug Flutie (another former Heisman winner) despite Generals head coach Walt Michaels' strong preference for the team to select Randall Cunningham. While Flutie may have had what Trump described as "star power," he completed less than half of his passes for the Generals after signing an $8.3 million contract that made him the highest-paid football player in the country. Flutie didn't find anything approaching NFL success until 1998 when he was in his mid-30s. Cunningham, on the other hand, had a borderline Hall of Fame career and threw for almost 30,000 yards while making four Pro-Bowl appearances. A threat to run and throw the deep ball, Cunningham had something better than instantly recognizable (and apparently easily misidentified) "star power" — he was exciting.
To Trump's credit, the Generals' record did improve under his ownership, and players didn't have the same concern as other USFL players when it came to missed payments or absent amenities. He also dressed to impress.
"When he took over the team, he brought a class to that team," Walker told Tim Rohan for MMBQ earlier this year. "I remember my mom always used to say, 'When you do anything, dress like you know what you're doing.'" Trump developed a friendship with Walker, and the two started spending time together off the field with each other's families.
His personal relationships and goodwill aside, Trump was still determined to move the league to the fall to compete with the NFL directly. He slowly convinced more and more team owners to see things his way. Even Burt Reynolds, who had a stake in the Tampa Bay Bandits, was "in awe" of Trump's style. John Bassett, the principal owner of the Bandits, who had been with the League from day one, clearly disagreed, becoming Trump's most vocal opponent.
"The guiding force for the owners at that point was John Bassett," said Cohen. "[He] was really clear that he didn't want to take on the NFL, that it was a no-win proposition, and that wasn't what he or anybody else signed on for. Trump ultimately gathered up the votes and the loyalties of various owners at a time until his stock was the majority. The old business model was scrapped and Donald's vision was the way forward and it never had a chance."
Pearlman outlines how a now-unopposed Trump applied his business practices to shore up his authority in the USFL.
"A) A very talented bully. He runs over people. And many of the USFL owners were new money; insecure; timid. B) His rival was John Bassett, who was dying of cancer. Bassett's illness and ultimate death [he passed May 14, 1986] opened the door for Trump to stomp on people; C) A lot of the owners didn't have the stomach/finances to sustain losses. They panicked, and here was a guy saying 'I can get an NFL merger and make you shitloads of coin.'"
Trump had become the League's de facto leader, and with the majority of the league's owners backing him (with Bassett, at one point, vowing to leave the league and form his own), the USFL filed an antitrust lawsuit against the NFL after its second season and the idea of playing a spring schedule was killed prior to the 1986 season.

Make Pro Football Great Again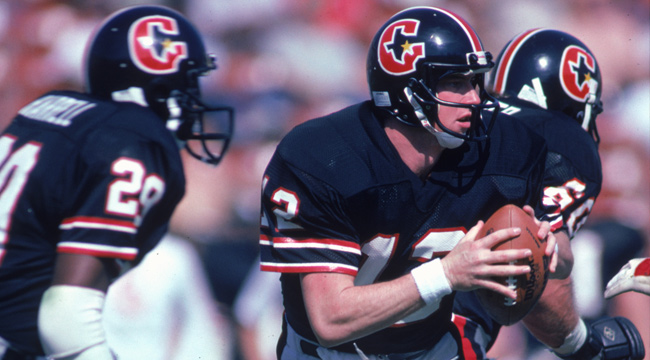 The goal of the lawsuit wasn't to destroy the NFL, but rather to join them. Pearlman said that Trump "desperately" wanted a merger, and that "he saw the vacancy in New York City, what with the Jets and Giants in New Jersey. He wanted a Manhattan stadium; wanted NFL fame, NFL profits. He never gave two shits about the USFL or his fellow owners. They were disposable. Or, as he later said, 'they were small potatoes.'"
During the trial, Trump alleged that the NFL was using its influence to destroy the USFL. He testified that NFL Commissioner Pete Rozelle had told him that the "NFL was going to be around for a long time, that 'You will have a very good chance for an NFL franchise, whether it be the Generals or some other NFL team,' and that what he wanted in return was… staying in the spring for the United States Football League and not bringing a lawsuit… The thing that Mr. Rozelle specifically did not want was a lawsuit on antitrust grounds."
This claim was first discredited by Rozelle's own testimony, where he explained that Trump told him "I want an NFL expansion team in New York,' and he said, and I'm quoting him exactly, 'I would get some stiff to buy the Generals, my team in the USFL."
Years later, Trump's former partner, Jerry Argovitz, spoke to Pearlman, stating that "there was no agreement. No way. That's just Donald talking. He never even liked the USFL. He saw it as a way to get in the NFL. But that promise — bullshit."
"God, the NFL hated him. Hated," said Pearlman. "There was zero interest in having Donald Trump as an owner. He was an arrogant, pompous asshole, and Pete Rozelle knew it."
On July 29, 1986, after a 48-day trial, the jury came out in favor of the USFL after five days worth of deliberation. They ruled that the NFL had, in fact, monopolized pro-football, but rejected the notion that the NFL had convinced the networks to deny the USFL in its efforts to have games broadcast in the fall and denied the league's asking price of $1.7 billion. Instead, in a powerful screw you to the USFL and Trump, the jury awarded the league $1. The USFL was able to win its court costs back upon appeal (between $6 and $10 million), but the result was the death blow for the league, which crumbled before it was set to play its initial batch of fall games.
"Trump couldn't have worked because he didn't want it to work," Pearlman said. "The USFL was simply a vehicle to land an NFL team. That's it. And here's the best part: in 1987, the NFL players went on strike. The USFL, had it existed, could have grabbed tons and tons of guys. Stars. Reserves. Draft picks fearful of missing a season. The USFL would have had insane leverage. For both adding players and a peace-saving merger. But Donald Trump, boy genius, couldn't see the light. Or he simply chose not to."
It's here where the real lost potential of the USFL can be felt. The 1987 strike lasted only 24 days, but the end was doubtlessly hastened by the league's use of replacement players for games that took place during weeks 4-6 of the regular season. These players, many of whom were USFL veterans aching to play professionally again, were joined by star players who had crossed the picket line like Joe Montana, Howie Long, and Steve Largent. But what if the USFL had remained as a viable option in the spring? Would the NFL players have held out longer knowing that they always had another option? Would they have refused to end the strike absent any major victories? Would the league have held strong in their stance and lost money without a ready supply of fresh players to fill the schedule, eventually suffering significant damage thanks to an exodus of players eager to join the USFL after a longer, more punishing strike? Admittedly, all of this "what-if" theorizing sounds like a pipe dream due to the financial state of many of the USFL's teams prior to its end, but had the league held to the Dixon Plan and gone the slow and steady rate, perhaps that wouldn't have been the case. Without Donald Trump's ambition and influence, maybe the USFL would have found a way to knock out (or at least harm) the NFL with a flurry of jabs instead of one big (missed swing).
Cohen thinks that had the League held on a couple more years, it could've become a phenomenon.
"I really believe that if the league had established itself as focused on the Spring and not competitive in the NFL season, that the NFL would have ultimately not fought it. That there would have been synergies and logic as to why it makes sense to have a Spring league and a Fall league. We'll never know."
Pearlman points out the striking similarities between Trump the team owner and Trump the GOP nominee. "It's very much like Trump as a presidential candidate, saying Mexico will build and pay for a wall. It makes no sense. None. Just as the NFL lawsuit made no sense. While NFL owners simply thought the baiting was nonsense, USFL owners were split. Some found it infuriating. Others inspired. The lemmings wanted to believe what they heard."
Years later, in an interview with Michael Tollin for the Small Potatoes documentary, Trump was asked about everything that happened with the USFL, to which he simply responded "football was meant to be played in the fall, and I realized that early on."
While Trump seems remorseless about his role in the destruction of the USFL (he also casually mentions that they had "a great lawsuit"), you can't deny that he ended up coming out ahead. Whether or not his true intention was to land an NFL franchise may never be known for sure, but he was able to build his notoriety and gain a firmer place in the national spotlight. With the USFL laying in ruin, Trump simply moved on — to Atlantic City, to reality television, and now, maybe the White House.
Despite the fact that the USFL had its shortcomings, there seems to be a real indication that the USFL could've flourished as its own entity. After all, Dixon spent years strategically planning the USFL before that work was undone in two short years. The USFL's main strength was its willingness to innovate. In their oral history of the league, Esquire paints a picture of a festive and exciting environment where mortgages were destroyed (and paid-off) and cars were given away. Fans were also given money-back guarantees. On the field, two-point conversions and instant replay were put in place and player individuality wasn't tamped down, but rather, encouraged with touchdown celebrations. The USFL wasn't quite the XFL, but it was a clear alternative and maybe more in-tune with what a lot of fans want from a game of football. The league just needed the time for people to realize that, but patience is not a virtue that Donald Trump had when it came to the USFL. And so, instead of receiving the chance to be a fully-formed competing product that could have, at least, pushed the NFL to put out a better on-field product, we're left with a footnote in NFL history and those "what-if…" questions.