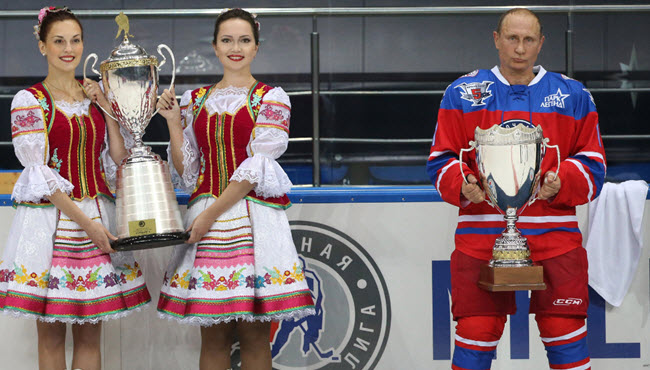 Barack Obama is often criticized by the American public for seemingly enjoying his personal life outside his normal duties as President. "Nice to see he has all that time to golf while the economy is in the tank," they often say. The criticism he receives may or may not be warranted depending on your point of view, but one thing is certain: The free time he spends on the golf course receives nowhere near the amount of ridicule and scorn he'd get if he decided to throw himself a hockey-themed birthday party, a la Russian President Vladimir Putin.
Celebrating his 11th, er, 63rd birthday, Putin and some of his best buddies took to a local ice rink in Sochi on Wednesday and shot the puck around for a couple hours. It cannot be confirmed, but it's presumed they then drank soft drinks and ate pizza and cake and stuff.
The New York Times reports that lil' Vlad invited all his friends, including several oligarchs currently facing U.S. sanctions for their role in Russia's military incursion into Ukraine, and Sergei K. Shoigu, the defense minister who announced missile strikes against Syria earlier that day.
Here's video of Putin skating gingerly up the ice, with not a single defender in sight, setting up one of his SEVEN goals on the day.
His team won, 15-10, of course. He is officially the Russian Kim Jong-un.
[via Vanity Fair]