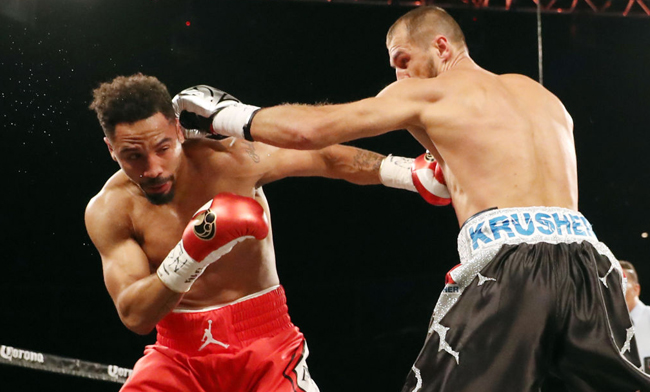 Last November's title fight between Andre Ward and Sergey Kovalev was one of the most controversial in boxing last year. The close fight brought the unified WBA, WBO, IBF unified light heavyweight titles around the waist of Andre Ward, who welcomed the rematch with the bigger Kovalev amidst plenty of trash talk. As if the talk, titles and questionable result from the last fight weren't enough to make the fight dramatic, the winner of this bout would likely get to call themselves the pound for pound best as the boxers occupy the no.1 and no. 2 spots in Ring magazine's rankings. Conor McGregor and Mayweather may be dominating the headlines this week, but this was the matchup to care about (along with GGG/Canelo).
Unfotunately, the fight would end with a controversial stoppage after multiple brutal body shots. Some of which Sergey Kovalev said were low blows.
Both Ward and Kovalev would open up with a hard-hitting intensity that channeled the weeks of verbal sparring the fighters went through leading up to the fight. This was like a dogfight, and from the opening minute, both men were simply trying to hit each other as hard as they could. The intensity was thick. Through four rounds, Kovalev looked like he was taking his belts back and getting vengeance for his sole defeat from the undefeated Ward, but Ward was getting creative and finally landing more power shots while Kovalev worked the jab.
In round 5 Ward looked like he was finding his rhythm but Kovalev kept picking him apart from a distance. It seemed like they were putting everything they could behind each shot, and the tension could be felt with each blow.
As the rounds went on, neither man refused to fight on the outside, with both men stepping into the pocket and throwing hard shots, then tying up and working the body. Both men were fighting with a fierceness. Neither refused to give an inch.
To put in perspective, through 7 rounds, they men threw and landed more shots than they did through 12 in their first fight. Every single round began with them meeting and exchanging with whipping shots in the center of the ring.
Then, suddenly, Ward landed a stiff shot that hit Kovalev right on the button, Ward stalked the wobbled Russian and finally chopped him down with a series of body shots. Some of which the announcers believed were low. After a few replays, it still was still a mystery if they were indeed low. Why the fight was stopped is utterly confusing.
Here's the shot that rocked Kovalev and the body shots, which Kovalev said were low.
https://twitter.com/TheSportsJunky1/status/876286277167058946
Ward improved to 32-0 but unfortunately, he remained a somewhat controversial champion. Should this fight have been stopped? Fans weren't happy, nor was Kovalev, who called the shot a low blow, and he wasn't hurt.