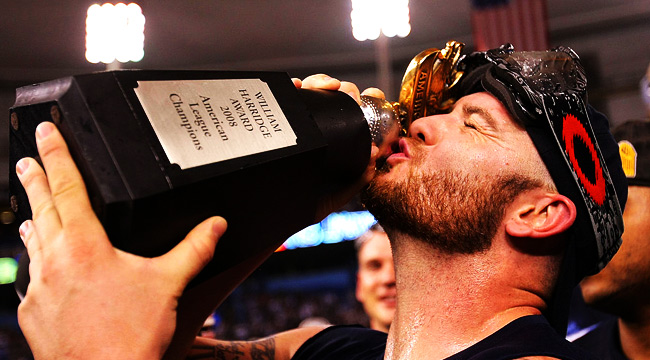 I stared at the bulbous TV hanging on the wall of the concourse. The game had never moved so slowly, and each pitch filled our lungs with terror. The game was occurring just a few feet away but our legs froze in place. If we moved, the seemingly impossible thing unfolding in front of us might never come to fruition.
We loved every second.
To understand why, you need to know that the first 10 seasons of the Tampa Bay (Devil) Rays' existence constituted little more than a desolate wasteland. I should know, I have been to every Opening Day since the team's inception in 1998. I was already 12 when they were born, but my first baseball game was their first baseball game. The only fun things about those subsequent years were Carl Crawford (who lead the majors in steals four times and triples three times before turning 26), Jose Canseco's 31 dingers before the All-Star break in 1999, and that one time Lou Piniella dyed his hair blonde after the team won three straight games in 2003.
And that's it.
But things appeared ripe for change in 2008. After losing 96 games the year before, the team re-branded with new uniforms and excised the Devil from their name. A few veterans were brought in, and the team played with purpose for the first time.
This newfound spirit became clear by the middle of spring training, on a day when Shelley Duncan spiked Akinori Iwamura in the dick and balls. Following a home plate collision a few days earlier that the Yankees found distasteful, Duncan slid hard into second with his spikes high, nailing Iwamura somewhere that would make David Robertson squirm. Jonny Gomes rushed in from right field and barreled into Duncan.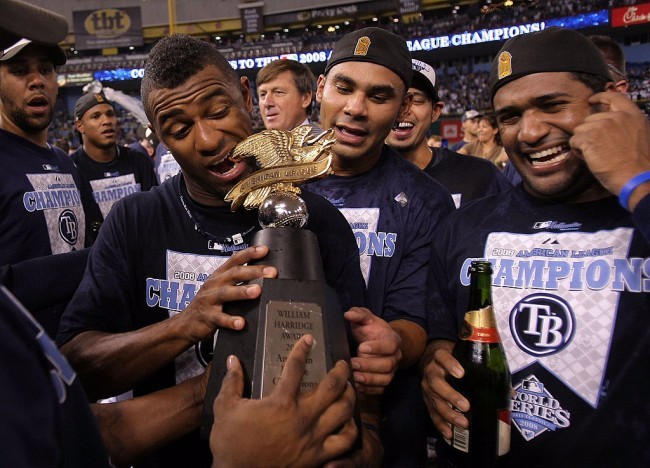 For the first time ever, the Rays had life and an identity. Having a stud rookie in Evan Longoria helped matters, but the supporting cast was also learning how to contribute. When the Rays faced the Yankees again in May, the game went to extra innings and they chased off Mariano Rivera — the greatest closer in baseball history — thanks to a hit by Cliff Floyd, a stolen base from Gomes, and a single from journeyman platoon player Gabe Gross. The wins kept coming and it no longer felt like Tropicana Field was merely hosting the opposing team's fans.
Another little-known player contributed to keeping the Rays in first place in September. Only leading Boston by a half-game and trailing by a run in the top of the ninth, Joe Maddon sent Dan Johnson, who had just been called up from Triple-A and would have started the game if not for a delayed flight, to the plate. The moonshot he lifted to straightaway center field off Jonathan Papelbon remains iconic in Rays lore. Before that season, it seemed that kind of smash would have found a fielder's glove instead of flying over a wall. It was these kinds of moments that gave fans a strange, new feeling: winning.
The team had done its part to win the division and get to the playoffs.
Now it was our turn to help.
Let me be clear: I'm not a superstitious person. I don't care about ladders or black cats or broken mirrors. However, that all goes out the window when it comes to sports. I firmly believe that what I am wearing or where I am sitting will — nay, does — have a direct correlation to my favorite team's success or failure.
Is it stupid? Yes. Am I going to stop doing it? And risk losing a game?
Are you crazy?
Back to Game 7 of the 2008 ALCS, and the Rays are hosting (who else?) the Red Sox. Matt Garza vs. Jon Lester for a trip to the World Series.
After a first-inning Dustin Pedroia home run, I left my seat in the nosebleeds for a stress-reducing walk and met up with a friend behind the area in the upper-deck outfield bleachers known as The Beach. We stood and talked for the next two innings, outside the view of the field but in front of a non-flat screen TV that was hanging on the wall of the concourse. Next thing we knew, the Rays had tied it in the fourth inning.
At this point, I start to get nauseous. It was the type of nausea that you can't yet tell is good or bad. And because our favorite team had done something objectively good while we were standing in that spot, we did what any rational fan would do.
We kept standing there, obviously.
The Rays took the lead in the fifth inning on a Rocco Baldelli single. My heart rate spiked and I could no longer feel my feet. We were now there for the duration, regardless of what yet may come. Then David Price, a rookie who had pitched a whopping five regular season games to date, came on to close out the biggest game in franchise history.
You know that feeling when you're not sure if you're going to pass out or throw up but one is definitely happening and there's nothing you can do to stop it? That's what it felt like then. Jed Lowrie grounded out to Iwamura at second base. By that time a group of custodians had gathered around where we were to watch on the TV as well. After the final out was secured, I celebrated by jump-hugging my friend like catcher Dioner Navarro did to Price.
We could have walked 15 feet to our left and watched the most thrilling game in team history live and in full effect.
Hell, we could have sat back down in seats we paid for and watched the game in comfort, but that is what a sane person would have done. Sports fans, as you know, do not tend to be the sanest bunch.
The Phillies defeated the Rays in the World Series in five games. At that point, it didn't matter. For a fan base built on years of unrealized expectations, getting there was the prize. Defeating Boston and overcoming 10 years of being the worst franchise in baseball was more than any Rays fan had thought possible back in March, when their season essentially started back with an emotional Iwamura play at second base.
That it culminated with one in October gave me everything I ever wanted.
Erik Hahmann is a freelance writer and former editor of DRaysBay whose work has appeared in RotoGraphs and The Tampa Bay Times.