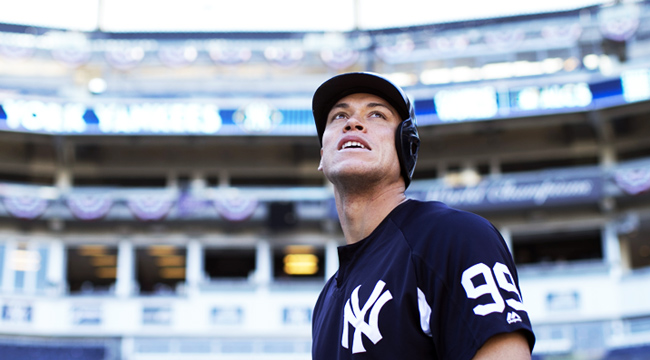 It's been 25 years since "Yankees Universe" endured a losing season. The team has won the World Series five times since then. That's an insane amount of good fortune for those fans.
But they've won one title in the last 16 years, and in the new century The Yankee Way has been to spend an ungodly amount of money chasing past successes by acquiring second-hand stars seeking their own return to form. The strategy was met with mostly middling results. Because of all this, the Yankees deserved to spend at least one season waving the white flag. Baseball law required it and the actual universe demanded it.
Apparently, the actual universe can f*ck right the hell off.
The Yankees' brand is built on implied superiority and bold names. It's hard to sell that (and thousand-dollar box seats) when you suck, so the Yankees were always going to, at least, feign an effort to compete and resist the kind of full-on rebuild other teams and their fans must suffer through. Despite the hopes of Yankee-haters, this team wasn't going to willfully surrender to the conditions that make 90-loss seasons a regular occurrence, but they also weren't poised to be great (or even very good) while relying on untested prospects in key spots. This was probably a .500 team at best. Interesting? Sure. Fun? Maybe for a while, but nothing more.
The law of averages holds that the Yankees' young nucleus should have included one or two players who fell short of expectations. Nobody hits on every lottery ticket. Someone had to be the next Jesus Montero or Ricky Ledee — hyped Yankee prospects from the past that flamed out fast or never lived up to expectations.
But that never happened. Jordan Montgomery, Luis Severino, and Chad Green stepped up for the pitching staff. Gary Sanchez and Aaron Judge became two of the game's most dominant hitters, smashing dingers on the regular.
Didi Gregorius took another leap forward, CC Sabathia embraced his role as stopper, and Starlin Castro became an All-Star a year after the Chicago Cubs quit on him. They even found a guy nicknamed "Toe" (Ronald Torreyes) to be an unlikely spark plug off the bench and brought in Todd Frazier after years of being reminded during Yankee broadcasts that he had once stood next to Derek Jeter as a Little Leaguer.
The 2017 Yankees weren't just fun — flexing muscles, flashing smiles, pumping youthful energy into the game, and doing fake sideline interviews in the dugout — they were actually likable. Seductively so.


As an Orioles fan, it's weird to say that. The Yankees destroyed them, pushing them into a dispiriting September slide that removed them from the Wild Card race and made their overall future less certain. I was there at Camden Yards on Labor Day to witness the genesis of it all, sucking on that sour experience during a four-hour drive home afterward.
I also thought back to July, with the Orioles in the midst of their initial slide (prior to a surprisingly dominant August), and the future also looked bleak. Manny Machado, Zach Britton, and Brad Brach were rumored to be on the trading block with a year and change left on their contracts. The prospect of a more traditional (read: lengthy and painful) reboot was right in front of them and me.
Then I thought back to 2014, when I started rooting for the Orioles. I fell in love with the team, its history, Camden Yards, and the idea of being a part of a less-bratified fanbase where we "like our guys" even if they don't win the World Series every year.
Because prior to embracing the Orioles with all my heart, I had been a Yankees fan. For 24 years. It was part of my family's culture, a daily passion. My dog was named Mattingly — she now goes by Matty Machado — but I decided to decamp after growing tired of that previously mentioned Yankee way.
You're not supposed to trade sports teams. It's a matter of loyalty above all others. or so I'm told. It's not that big of an adjustment, but I'll be honest with you, reader. With the Orioles looking like they were about to enter an extended dark period and the Yankees looking like they had worked through a lot of the issues that had driven us apart — wild spending sprees and a reluctance to embrace youthful exuberance — I thought about going back.
I'm glad I didn't.
The Orioles may yet trade away everything but Boog Powell's BBQ and Chris Davis' contract. Maybe I'll go have a fling with another team if that happens — 'sup, Braves? — but I won't repeat my past mistakes. The 2017 Yankees were an aberration: fun and likable, but bound to be soured by the realities of baseball and a Yankee machine that doesn't know any better.

Joe Girardi always struck me as self-serious and cold. (Contrast him with Orioles manager Buck Showalter, who comes off like a country-fried philosopher/comedian.) And though whatever Girardi was doing was working for the Yankees, they still decided to cut him loose right this week, with the team on the verge of its Next Big Step. (They did the same thing to Showalter after the 1995 season, replacing him with Joe Torre, and that certainly worked out.) In canning Girardi without much rationale, the Yankees somehow turned a gruff, often inflexible manager into a sympathetic character in this little play. It may stand as their most impressive feat of the offseason.
But these being the Yankees, they will spend money, if not this winter than the next. It's what they do, despite deploying austerity measures this offseason to reset their luxury tax penalty. That's ridiculous when you consider it means they'll probably only spend $30 million (to stay under the $196 million threshold) instead of $60 million, but it's probably also frustrating to Yankees fans because spending when your team is right there on the cusp of greatness is how this system is designed to work.
According to some, 2019 is when the Evil Empire makes its full return, as the Yankees will embrace video game roster construction and sign Manny Machado and Bryce Harper to join Aaron Judge, Gary Sanchez, the reanimated body of Mickey Mantle, and Shohei Otani (who will surely sign with the Yankees this offseason and pitch like Brendan Fraser in The Scout) to form baseball's equivalent of the Avengers, scrappy homegrown players and team chemistry be damned.
Yankees fans love superteams such as that proposed one. It bolsters that well-earned heel status and their own reputation for being brash and boastful guardians of Yankee history. It's an attitude that has some charm when you're a part of that clique. But when you're outside of that stifling sphere? Oh, f*ck them. The fact that Judge made so many Yankees fans happy this year dimmed the shine on his dominant ascendancy. After all, he's an affable giant who hits 600-foot bombs. What's not to like?
The Yankees brand stokes that attitude of superiority while propping up and milking the team's (admittedly impressive) past. But there are times when it feels like the team strains to paint a rosy picture, making players and moments (and brand new stadiums) feel bigger and more important than they are and were, through Yankee Classics, Yankeeographys, and announcers that sound awestruck over routine accomplishments and mid-season victories. It may come off as disingenuous and forced, but it's the Yankees' bombastic way.
This collection of annoyances — among others, like the continued presence of alleged domestic abuser Aroldis Chapman — make it easy to hate the Yankees, the magical and fun parts of this 2017 team aside. But the truth is, even without these looming marks against a full Yankees lovefest, the team wouldn't have the same charm next year anyway.
As of next spring, the Yankees won't consist of an exciting group of youngsters poised to break out. They won't take anyone by surprise, making people drunk on the euphoria of an unlikely and exuberant rise that makes this team seem like the irresistible feel-good hit of the summer. They'll just be another band of stars with sky-high expectations.
To them, I say this: Clear the bar and enjoy the spoils of doing what everyone thought you'd do. Or hit your head on that bar and otherwise fail. Watch the bandwagon empty out as Yankees fans start looking for the next big name to scream about.
It hardly seems fair, but the universe can be cruel. Just ask an Orioles fan.