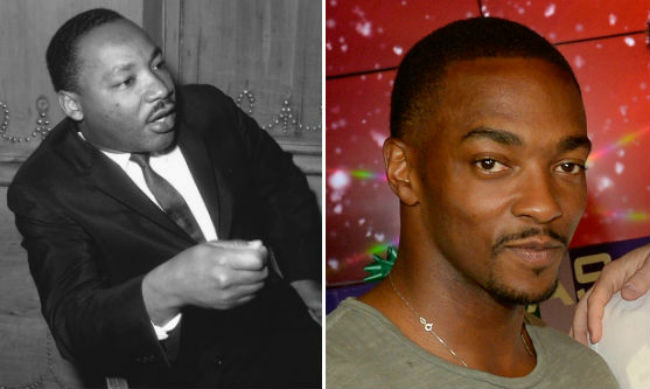 Last summer, news broke that Bryan Cranston would reprise the role of President Lyndon Johnson in HBO's television adaptation of All The Way. Cranston won the Tony Award for Best Actor for his portrayal of LBJ in the original stage play, so he'll definitely have no problem carrying the Steven Spielberg-produced adaptation. Even so, it sounds like he's about to get a little air support.
The Falcon himself, Anthony Mackie, has joined the project to bring another seminal historical figure to life — Martin Luther King Jr. Deadline first reported the casting on Tuesday:
I'm told that Mackie's role in the script will be significant, and portrays a far more collaborative and complex relationship than was depicted in the Best Picture nominee Selma.
While All The Way's story emphasizes Johnson's first year in office, King's presence is significant. As Mike Fleming Jr. notes, this approach will differ significantly from Ava DuVernay's in Selma, which caught flack for its portrayal of the president as a major hindrance to the renowned Civil Rights activist's efforts.
Whether you agree with Selma's narrative, the stance adopted by All The Way, or neither, it's difficult not to agree with Fleming when he declares that Mackie's hiring "caps a breakout period for Mackie." Go get 'em, Falcon.
(Via Deadline)