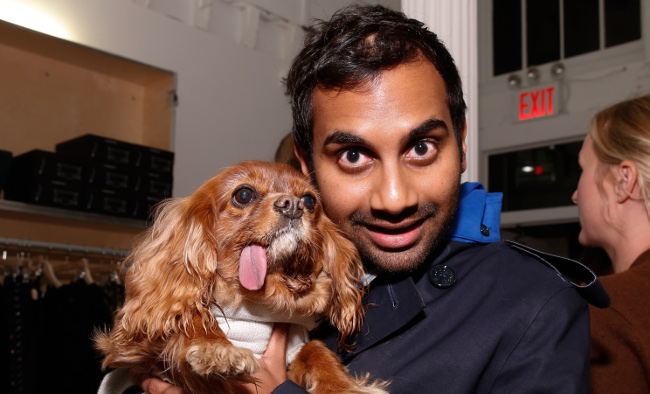 Netflix is keeping its streak of interesting and exciting programming alive by bringing a new series from Aziz Ansari and Parks And Rec EP's Michael Shur and Alan Yang to it's stable. There's no title yet, but there's a lot of names to love already attached and expectations are going to be high.
Ansari has been teamed with Netflix in the past with the release of his special Buried Alive, but this would be the first series both on the streaming service and following the end of Parks & Rec. From The Hollywood Reporter:
Ansari and Yang co-created the new series, which will feature a cast that includes Ansari, Jon Benjamin (Netflix's Wet Hot American Summer reboot, Bob's Burgers), Lena Waithe (The Comeback), Eric Wareheim (Tim and Eric Awesome Show, Great Job!), Noel Wells (SNL) and Kelvin Yu (writer for Bob's Burgers). The logline and plot details are being kept under wraps, but the series had been rumored to be loosely based on Ansari's life.

The comedy hails from Universal Television, the studio behind both Parks and Rec and Schur and Dan Goor's Brooklyn Nine-Nine and where Schur and his Fremulon banner is under an overall deal, and 3 Arts, which produces both series.

Anzari, Yang, Schur, 3 Arts' Dave Becky and David Miner will exec produce the 10-episode half-hour series. J. Ponsoldt (Shameless, Parenthood) will direct. Production is already under way in New York following a lengthy deal making process.
THR notes that would be two shows for Michael Shur, with Brooklyn Nine-Nine still going strong over at Fox, and the second for Universal on Netflix following the success of Unbreakable Kimmy Schmidt.
If you're a fan of any of those shows or any of the people involved, this has to be good news. It certainly balances out the prospect of Full House getting a reboot. If it means success and more series along these lines, reboot all the old TGIF sitcoms. Step By Step, Family Matters, and Perfect Strangers could all use reboots, right?
(Via The Hollywood Reporter)