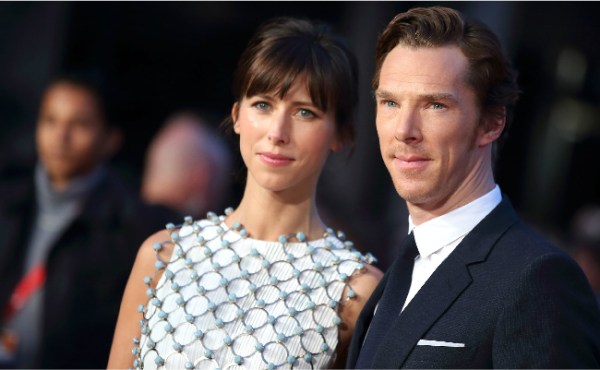 There is a stalker leaving messages at Benedict Cumberbatch's London home, and the Sherlock star is understandably concerned about the safety of his family. According to The Mirror, a passionate fan has taken her admiration of Cumberbatch one step too far and taken to visiting his private residence. In a nod to the actor's role as Sherlock Holmes in the popular BBC One show, this unidentified woman is leaving red ribbons around his property. They are presumably a reference to the popular Arthur Conan Doyle story "A Study in Scarlet" which finds Sherlock's right hand man, Watson, tying his case files up with red ribbons.
With a newborn son at home now, it's no surprise that Cumberbatch is not taking this violation of his privacy lightly. The police are involved and have issued a notice that the woman can no longer contact the actor. With any luck, this will bring an end to this harassment of what would otherwise be a normal London family if not for the ridiculous fame of one member. Fans with no sense of personal boundaries are an unfortunate side effect to what is quickly becoming an incredible career for Benedict.
This isn't the first time that fans have made Cumberbatch a little nervous. While promoting Star Trek Into Darkness on The Graham Norton Show, he couldn't even bring himself to say the name his fans have chosen for themselves. Of course that was a more lighthearted situation, but if the Cumberbitches are passionate enough that even saying their name can instill some fear, somebody going to his home is just an extreme form of their excitement. Given that Cumberbatch is due to film another season of Sherlock soon and will be taking on the titular role of the Dr. Strange movie, on top of his current stage role as Hamlet in the play of the same name, his fame will only increase. Here's hoping the number of dangerous fans doesn't increase as well.
(Via The Mirror)