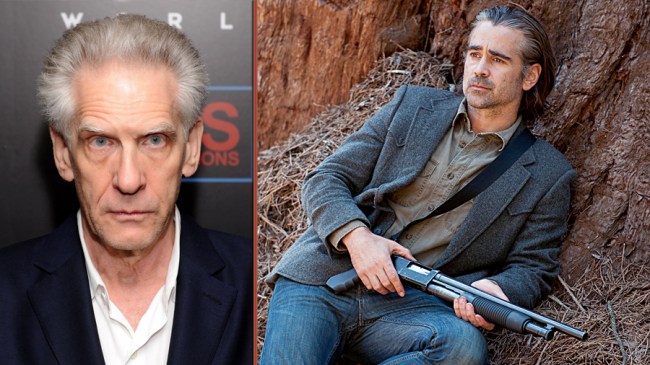 So True Detective season two has come, disappointed many, and gone down a dusty path of hard-boiled dialogue and odd Friends-loving ginger children. Justin Lin took the director's chair in the first two episodes of the season and many took the entire season as proof that season one director Cary Fukunaga was a diamond in the rough. Others, like myself, enjoyed it, but I probably could've enjoyed it more if Lin wasn't the second choice for directing the season opener.
The first choice was Scanners and Videodrome director David Cronenberg; at least that's what he said at the Reykjavik International Film Festival. Cronenberg probably would've been enough to make me go to war to defend this series from detractors and could've brought a very distinctive look to the series' more odd portions. That never happened, obviously, and most of it is because Cronenberg smelled a turd according to Indiewire:
"Last year I was approached to direct the first episode of the second season of 'True Detective,' I considered it but I thought that the script was bad, so I didn't do it. In TV, the director is just a traffic cop, but on the other hand, it is work and there's a lot of it."
I'm currently writing this from the forest, solemnly looking to the sky and wondering what might've been if Cronenberg got to add some of his signature style to True Detective. And in the realm of creative personalities, I think David Cronenberg trumps Nic Pizzolatto in terms of who I'd trust with a project. There's some distance between those two, but we're still far from the top of the list.
It's just one of those things where you're left thinking what might've been? I doubt Cronenberg would've helped with any of the issues that stuck out for many critics of the show this season, but he couldn't have hurt. Obviously he'd be given full control of the entire series in a perfect world, working with Pizzolatto to craft the entire season. There's many things that could've happened differently, but you know that dream sequence with Ray and his father chatting in front of the Conway Twitty impersonator would've been number one on the list.
(Via Indiewire / The AV Club)