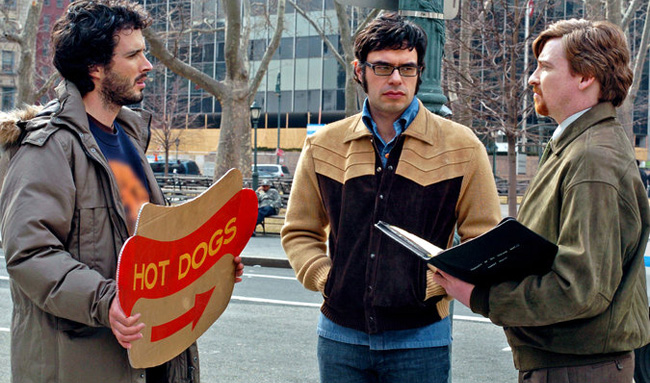 Another classic HBO show is about to make a possible return according to one half of its magical musical duo. While it isn't official from HBO's end, Jemaine Clement told Indiewire that a Flight Of The Conchords special is in the works. He also shared an update on the planned American series adaptation of What We Do In The Shadows with Taika Waititi. Clement says he and Bret McKenzie are working on an hour-long special that is set to coincide with their tour of the U.K. in Spring according to Indiewire:
"It should be fun…We've done some of it before, some of it will be new. Some of it we'll be working on in the next few months."
Clement was on hand for Legion at the Television Critics Association FX panel on Friday, but couldn't help spilling some details about the Conchords now that they've been off television for close to a decade. It is different than Curb Your Enthusiasm, where Larry David has changed very little in that same amount of time, and it's something Clement highlights to Indiewire:
"We've grown up," he said. "We're not the characters from the TV show, in real life we're dads now and listen to different kinds of music. The trickiest thing about touring again is getting used to your instrument again. Usually, I take my guitar in the van on the way to work to get used to it."
According to The AV Club, HBO wasn't ready to confirm the special yet and noted that "The deals are not fully in place. We'll hopefully have news soon" in a statement.
He also discussed the possible movie from the duo, adding that they've "written some notes for some different film ideas" but there is no guarantee that it would ever be made. The same can't be said for What We Do In The Shadows and its American adaptation. Clement is helping to write the new version that follows an American documentary crew, but he has also helped with a TV spin-off of the original film called Wellington Paranormal that should premiere later in 2018 according to Indiewire:
"It's a small show, just six episodes so far, about two cops in Wellington who go and investigate ghosts and werewolves and that kind of thing," he said. "We finished filming about two weeks ago. It was really fun but tiring, we'd start at 2 or 3 in the afternoon and then finish 12 hours later."
There is also the planned sequel to the original film, titled We're Wolves. This was confirmed by Waititi in between all the success with Thor: Ragnarok at the tail end of 2017. Busy times for everybody it seems.
(Via The AV Club / Indiewire)