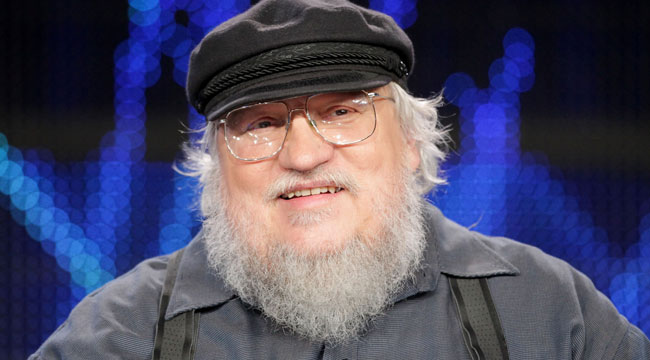 Has George R.R. Martin finished the next book in his Song of Ice and Fire series? There are rumors (which may be nothing more than wishful thinking) that he's done writing The Winds of Winter and it will get an early 2016 publishing date.
As it stands, he's not acting like someone way behind schedule on turning in the book. After cancelling a number of appearances earlier in the year, he made time to appear at Northwestern's Medill School of Journalism to receive a Hall of Achievement alumni award.
That involved a ceremony and two talks with current Northwestern students. As you'd expect, there was a lot of Game of Thrones talk, including this interesting statement regarding how the saga will end. Via Vulture:
"I think you need to have some hope," he said, referencing the manners in which sagas end. "We all yearn for happy endings in a sense. Myself, I'm attracted to the bittersweet ending. People ask me how Game of Thrones is gonna end, and I'm not gonna tell them … but I always say to expect something bittersweet in the end, like [J.R.R. Tolkien]. I think Tolkien did this brilliantly. I didn't understand that when I was a kid — when I read Return of the King."
Tolkien's Return of the King ends slightly differently than the Peter Jackson movies. After the hobbits destroy the One Ring, they return to the Shire to find it in ruins – an allegory for post World War II Britain. I don't blame Jackson for not including that part … his movie had enough endings after the end as it was. But it was an important theme in the last book, one that George R.R. Martin obviously picked up on and plans to play with in the conclusion of his own series.
G.R.R. and J.R.R. aren't always on the same page as far as how to write a fantasy epic. While Martin has often talked about his admiration for Tolkien and the influence Lord of the Rings had on him, he also noted a trope the British author is largely responsible for: "the idea of the Dark Lord and his Evil Minions," as George calls it.
"The battle of good and evil is a great subject for any book and certainly for a fantasy book, but I think ultimately the battle between good and evil is weighed within the individual human heart and not necessarily between an army of people dressed in white and an army of people dressed in black. When I look at the world, I see that most real living breathing human beings are grey."
If Tolkien is the fantasy grand daddy of good versus evil, Martin is surely the master of grey. No series of fantasy has done a better job of building a world where characters on all sides of the battle are fully fleshed out with relatable motivations. Well, everyone but the Others. F*ck those things.
But who knows, if George can make us love Jaime Lannister, maybe we'll end up rooting for the White Walkers by the end. If there's no one left in Westeros by book seven but Boltons and Freys, I could see it happening.
(Via Vulture)
Now Watch: Could Jon Snow Return In 'GoT' Season 6?