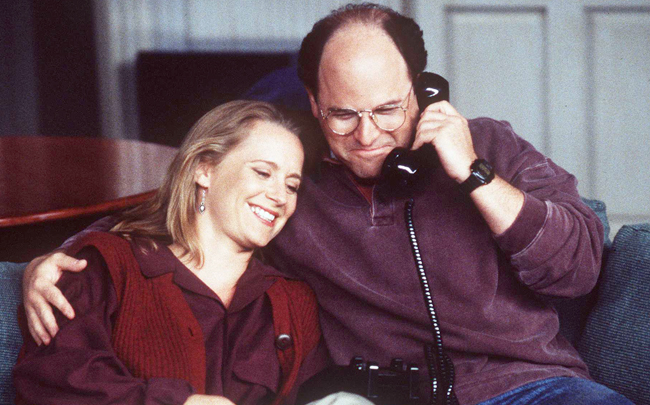 On Wednesday's Howard Stern Show, Jason Alexander told the story about the real reason his character's fiancee Susan Ross had been killed off of the show. And while the account was not particularly scandalous — Alexander emphasized that the there were no personality conflicts with actress Heidi Swedberg herself, rather the frustration came from having to "play off of her" — the media (*cough*) ran wild with it, inadvertently dragging Swedberg's name through the mud.
On Twitter this morning, however, Alexander has apologized for his remarks, saying in attempting to defend his costar (it was Howard who first insinuated that there was trouble behind the scenes), it may have seemed like he instead disparaged her. Via TwitLonger:
And again I say, I and the cast really liked and like Heidi. She is a kind, lovely person who undoubtedly worked really hard to create Susan and that character was clearly what Larry and Jerry wanted her to be for George. I just felt I was on uncertain ground in how to play off that character and I was always concerned that it wasn't working. And that's what I would voice concern about. But because the scenes were playing the way they were, the relationship with George and Susan sustained a whole season. People clearly liked the interplay even though I believed I was "off".

Larry and Jerry were not sure how that relationship would end. They didn't really want George married but all the alternatives seemed predictable. They were always looking for an inventive end to the engagement. So when the comment was made about "killing", no one was talking about the actress – they were talking about the character. And that made a creative lightbulb go off apparently.
Personally, I didn't feel as though anything he said was defamatory towards Swedberg, but it was rather an entertaining anecdote, and it was still very gracious of him to apologize.
You can read his full statement here.