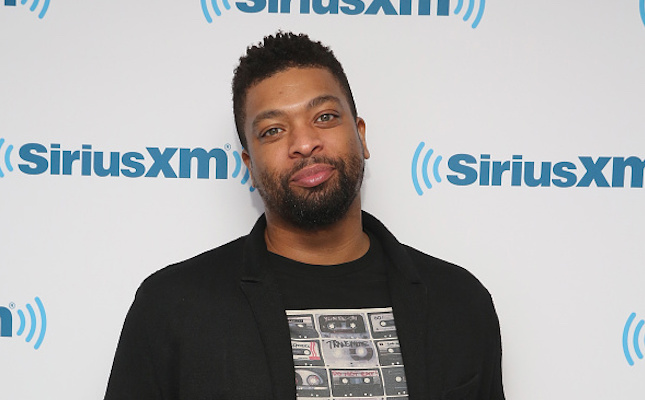 You might not immediately know his name, but you're probably familiar with DeRay Davis for roles in such movies as Barbershop, 21 Jump Street, G.I. Joe: Retaliation, Scary Movie 4, or as the voice of Leonard in The Boondocks.
Kenan Thompson knows him as that "dick" with whom he auditioned for Saturday Night Live.
Recently, Thompson appeared on the WTF with Marc Maron, and I couldn't tell during the interview if Thompson was high, or if he is just a really, really mellow guy in real life. It was one of the most chill interviews I've ever heard on Maron. Thompson was laid back, soft-spoken, and unexcitable, which is rare for a Maron podcast, where he has a tendency to probe deep into the psyche of his guests.
However, Thompson did get animated when discussing his own audition for Saturday Night Live, and especially, DeRay Davis, who auditioned with Thompson along with J.B. Smoove and Finesse Mitchell (in fact, in the first round of that audition, Thompson's old partner, Kel Mitchell, also auditioned, but he didn't make it to the next round).
As Thompson tells it, he absolutely bombed at every stage of his audition, mostly because he was asked to do stand-up, and Thompson is not a stand-up comic. For whatever reason, however, Lorne Michaels saw something in Thompson that he thought would make him a good fit for SNL. In fact, he and Finesse Mitchell were hired for the cast, along with J.B. Smoove, who was hired on the writing staff.
The one guy who didn't get hired from those final rounds? Davis. Maybe it was because Michaels didn't see anything in his act that made him seem like SNL material, or maybe it's because Davis is a "dick," according to Kenan Thompson.
On the final auditions, Kenan Thompson said during the podcast:
Thompson: It was down to me J.B., Finesse, and DeRay.

Maron: DeRay Davis?

Thompson: Uh huh.

Maron: I like that guy.

Thompson: I don't.

…

Maron: I don't know DeRay. I like his stand-up.

Thompson: Yeah. It's different, I guess, with the person.

Maron: I just want to qualify that I have never met him in my life.

Thompson: I'll qualify that I have, and he's a dick… it's not a surprise, I don't think. I don't think many people would be surprised.
So, tell us how you really feel, Kenan.
(Via WTF with Marc Maron)