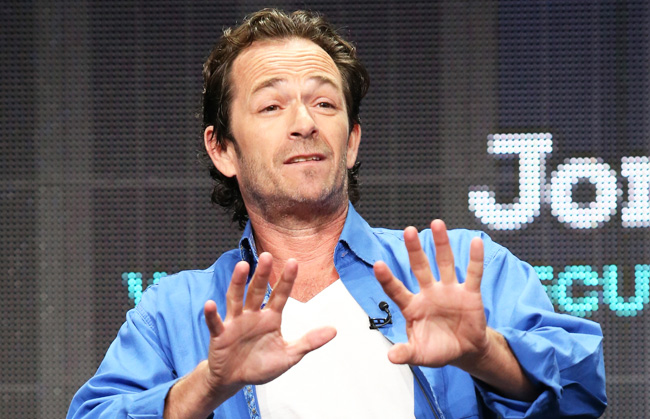 Luke Perry was at the Television Critics Association summer press tour Thursday, as he's starring in a scripted drama called The Ties That Bind alongside Kelli Williams (The Practice) premiering on the UP network next month. Of course, no one wanted to ask him about that show, and reporters instead brought up that Unauthorized Beverly Hills, 90210 Story that Lifetime is working on, which will ostensibly spill all of the deep dark secrets of the 90210 cast.
However, Perry does not have time for your sh*t, reporters who want to ask about Lifetime's unauthorized 90210, via Us Weekly:
"What do you think about Lifetime doing the tell-all?" the actor was asked.

"I don't think about it," he replied.

"You must have some thoughts?" the reporter continued.

"No," replied Perry, definitively.

"Why do you think there's still a fascination? It's been a few years since that show went off the air," someone else persisted.

"Yeah, I had really cool hair," Perry quipped, dryly.

"Why are you so disconnected from that? Why does it not matter to you?" the reporters went on.

"Third grade," Perry replied flatly. "How much does that matter to you? Exactly. It's just not relevant to anything I'm doing. Next question?"
Actually, it was high school, Luke Perry. West Beverly Hills High School, to be exact. In a little place with a zip code of 90210. All I'm saying is that Ian Ziering probably wouldn't have such a snooty attitude if someone asked him about 90210. Then again, Ziering stars in TV movies about flying sharks.
(Via Us Weekly)