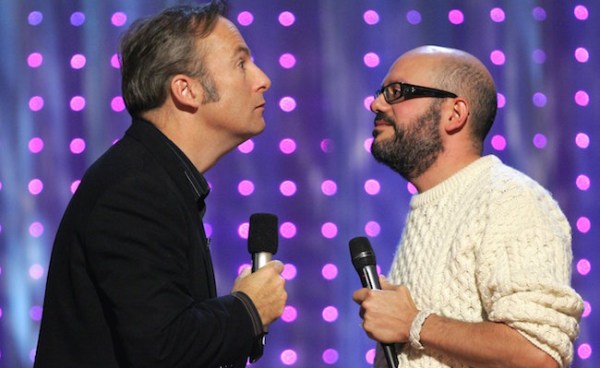 Life is full of cruel mysteries and the bulk of them seem to be tied to the question: "Why isn't (show I like) available on (streaming service I use)?" When it comes to Mr. Show's noticeable absence on HBO Go, we may finally have an answer.
Bob Odenkirk and David Cross' critically gushed over cult comedy masterpiece seems like it'd an excellent fit on the service considering that it aired on the pay cable giant originally, has a sterling reputation and is riding a wave of hype thanks to the soon-to-arrive Netflix series W/ Bob & David. What evil forces are at work to separate Mr. Show from HBO Go? The answers vary depending on which camp you believe.
Decider elected to dig into this mystery like it was a big ol' jar of Mustardayonnaise and got a mixed response from the parties involved. HBO's explanation for their lack of Bob and David? They claim they don't own the streaming rights which means the ability is out of their hands. It's an explanation that's disputed by sources involved in the making of W/ Bob & David who counter that HBO has the distribution rights.
What does this mean? Here's a helpful summary:
The semantics here are important, as well as the timing.

You see, Odenkirk and Cross made Mr. Show in the 1990s, back when streaming wasn't a thing. Certainly not a thing to include in contracts. The 2007 Writers Guild Association strike and subsequent negotiations with SAG-AFTRA have more and more focused on figuring out residuals for writers and performers in a world of online, mobile viewing.

Sources close to Odenkirk and Cross note that Mr. Show still falls under the older AFTRA deal that would cost HBO more than perhaps it wants to pay in residuals.
Essentially, it looks like HBO considers Mr. Show too much of a potential cash suck in residuals to justify having on the service. If only GloboChem could chip in a few bucks to split the difference.
(via Decider)