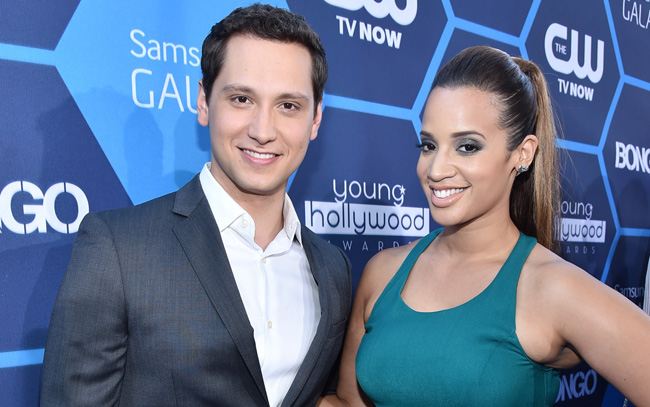 Spoilers ahead for Season 3 of Orange Is the New Black!
Now that we've gotten that out of the way, if you've watched the third season of Orange Is the New Black, you're aware that in a particularly cowardly and sleazeball move, Officer John Bennett, played by actor Matt McGorry (who went on to join ShondaLand's How to Get Away with Murder), left his inmate lover Daya high and dry after getting her pregnant and subsequently proposing.
Depending how you felt about the relationship of the two characters — in which Bennett seemed to be spinning plates to keep Daya from being mad at him for whatever reason, while simultaneously trying to retain prison authority and not get caught himself — this may have come as something of a relief.
But some fans were pissed. Really pissed. So pissed that when McGorry posted a seemingly innocent Instagram photo of himself and Grey's Anatomy star Sarah Drew at the Monte Carlo TV Festival last week, outraged fans seemed to blur the lines of reality and lost their damn minds.
Here are just a few of the frothing, insane gems:
CHEATER!!! I AM DISGUSTED!!!!
Ok hanging out with other women while daya rots in jail ok ok
Dayanara is in jail and your baby is probably going to foster care but here you are with another woman.. smh
YOURE HANGING OUT WITH OTHER WOMEN ALREADY AFTER LEAVING YOUR BABYMOMMA IN PRISON WITH THE BABY

WHAT IS WRONG WITH YOU
Look who found a new girl did u tell her u were a father of a prisoner at litchfeild?
I hate this dead beat ass dad I can't believe he already replaced daya smh not happy Father's Day to you piece of shit!
It goes on like that for quite a bit. Regardless if the women commenting were really serious or just joking… which I'd like to hope at least some of them were, it's still unsettling to say the least. In response, McGorry posted this follow up with his former onscreen lover and her mother for Father's Day, in which he goes into considerable detail about the differences between TV and real life, for those who might be a bit reality-challenged. It's pretty great.
Well, hopefully that clears things up for now. Until McGorry gets an actual girlfriend, of course, it was nice knowing you, dude.
(Via UPI)