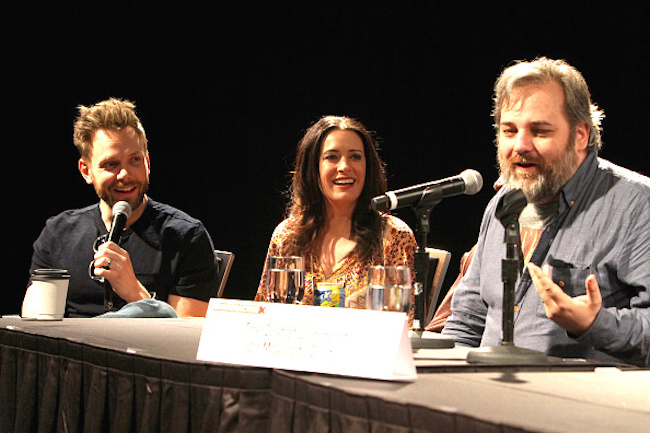 Now that the sixth season finale of Community has aired, and a seventh season or a movie is still up in the air (and we're not even sure we need more), you might be missing Dan Harmon and the gang at Greendale. Worry not, because even on Twitter, Harmon is still the same old Harmon, while Paget Brewster's tech naïveté is both hilarious and incredibly endearing, as exemplified in a tour de force, Community-like exchange the two had on Twitter this week.
It all began because Paget Brewster was missing Harmon, and rather than phone him up and say as much, she wanted to send a direct message to him on Twitter. The problem? She had no idea how to do so.
This is where it goes from "endearing actress is oblivious about Twitter" to "full-blown hilarious."
Right, half the first episode in the seventh season has already written itself. But there's MORE.
And here it goes from making fun of Brewster's problems with Twitter to her issues with punctuation.
And because no Dan Harmon exchange could go without a wisecrack at the expense of NBC …
GENDER WARFARE!
(Note, I have no idea how Elizabeth Reaser got involved in this, but I like to think she's just like her Mad Men character, Diana — she shows up, and then mysteriously disappears.)
And now we're talking about a completely different kind of show, one that I will happily add as a season pass to my DVR …
I think we can all agree with Jennie Marie here, can't we?
I need a cigarette.