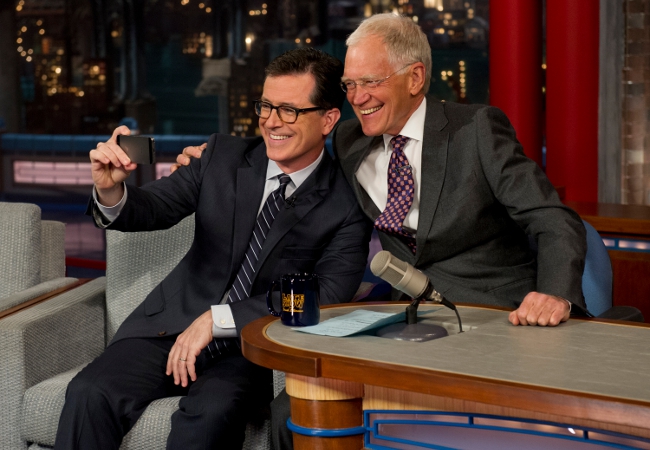 It happens all the time in entertainment. TV and movies stars sometimes have to relinquish a chunk of their pay in order to get a project done. The impetus for parlaying a pay cut may lean on a visualized passion project, or perhaps the possibility of a larger, more magnificent legacy. Who knows exactly what Stephen Colbert was thinking when he took a pay cut to go to CBS' The Late Show — and, let's be clear, we don't know the intricacies of his contract — but the purported fact is that he'll be losing more than $1 million per year to take over David Letterman's desk.
At Comedy Central, Colbert was raking in around $6 million per year, and is reportedly worth around the $45 million mark. For his move to CBS, his three-year deal puts him at $4.6 million per year. Although that's still a lot of money, it is a $1.4 million pay cut, and it's a far cry from what Fallon and Kimmel are making right now (Fallon makes $12 million per year, while Kimmel makes $10 million).
Colbert is an unproven commodity on network television, but if his audience follows him from Comedy Central, CBS will have a huge head start on the late-night ratings game as he scores big with the 18-49 demographic. If his debut telecast's ratings are any indication — The Late Show's ratings were more than double Fallon's The Tonight Show on Tuesday night — CBS and Colbert are heading in the right direction.
And where there are ratings, there are ad dollars. Where there are ad dollars, there are bigger paychecks.
(via TIME)