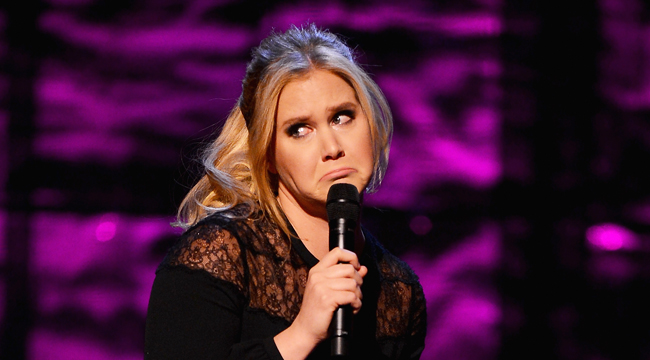 Amy Schumer: Live from the Apollo (HBO, Saturday, 10:00 p.m.) — As if her year hasn't been big enough — her first feature film, her first Emmy, her first turn hosting SNL — Schumer's coming into your living room (or onto mobile devices) with her very own HBO stand-up special.
Saturday Night Live (NBC, Saturday 11:30 p.m.) — Bring the tissues, because you're going to spend the evening crying normally and crying because you're laughing so hard when Tracy Morgan makes his triumphant return to Saturday Night Live 16 months after the tragic traffic accident that killed Morgan's collaborator, James McNair, and left Morgan himself in a coma for two weeks.
The Knick (Cinemax, Friday 10:00 p.m.) — If you somehow managed to miss the gloriously gruesome first season of Clive Owen and Steven Soderbergh's medical drama set in early 1900s New York, you're running out of time to catch up in time for the premiere of season two.
Beasts of No Nation (Netflix, Anytime) — Cary Fukunaga of True Detective season one fame is at the helm of this Netflix original feature film starring Idris Elba and mostly unknown actors. It's got critics glowing and audiences cringing at the harsh reality of life for Africa's lost boys.
Anthony Jeselnik: Thoughts and Prayers (Netflix, Anytime) — The star of the short-lived Comedy Central series The Jeselnik Offensive stars in a Netflix stand-up special fresh off his first season hosting Last Comic Standing.
The Walking Dead (AMC, Sunday 9 p.m.) — Father Gabriel and Carl have a little heart-to-heart that leads to some machete demonstrations.
The Leftovers (HBO, Sunday 9 p.m.) — We had to wait until the third episode, but we finally learn what's become of Laurie, Tom and the Guilty Remnant.
Homeland (Showtime, Sunday, 9 p.m.) — Carrie's got her walls papered with photos like when she was crazy (or when she was really good at her job) and a sniper rifle while everyone and their secret identities are trying to track her down.
The Good Wife (CBS, Sunday, 9 p.m.) — TLC and tears are the two main ingredients that go into the mother-daughter kitchen program that Eli cooks up for Alicia and Veronica.
Once Upon a Time (ABC, Sunday, 8 p.m.) — Hook is pining after Emma, and Mary Margaret has finally realized that Arthur might be their biggest threat and she's ready to scream it from the rooftops.
Madam Secretary (CBS, Sunday, 8 p.m.) — Dmitri has a run-in with a Joseph McCarthy wannabe when he's kidnapped and accused of being a Russian spy.
The Simpsons (FOX, Sunday, 8 p.m.) — Nick Kroll and Blake Anderson make guest voice appearances in "Halloween of Horror," in which Lisa gets her socks scared off at Krustyland and sets off a chain reaction of chaos in Springfield.
Sunday Night Football (NBC, Sunday 8:20 p.m.) — It does not matter how big the line on this game is, brace for a bigger blowout as Tom Brady and Bill Belichick have had two weeks to prepare for an injured Andrew Luck and the hapless Colts.
Brooklyn Nine-Nine (FOX, Sunday, 8:30 p.m.) — There's a serial killer on the loose, and Jake and Holt try maintaining radio silence to catch their perp.
Bob's Burgers (FOX, Sunday, 9 p.m.) — Louise has never been scared before, so the Belchers head off to a haunted attraction where they overcompensate to the degree you'd expect.
Last Man on Earth (FOX, Sunday, 9:30 p.m.) — Just when you think Phil couldn't possibly be any dumber, he goes and does something like this… and totally redeems himself!
CSI: Cyber (CBS, Sunday, 10 p.m.) — Like SVU before it, CSI: Cyber looks to address the growing civil unrest in this country when the unit has to find a hacker who accessed a police officer's body cam and released it to the masses.
Last Week Tonight with John Oliver (HBO, Sunday, 11 p.m.) — John's upset about something and uses humor to deflect while making us wet ourselves in fear over how hopelessly terrible and corrupt the pillars of our society have become.
Late Night — Jimmy Kimmel, Jessica Chastain, Tom Hiddleston, Mia Wasikowska, Guillermo del Toro and Beach House on Colbert; Bruce Willis, Sienna Miller and Borns on Fallon.