Z Nation (Syfy, Friday 10 p.m.) — The other, other zombie show is back, and the only hope for humanity is still pumping through Murphy's veins, probably. So, the first step to saving the world is probably finding him.
Miss America 2016 (ABC, Sunday 9 p.m.) — We're not saying that you should turn the Q&A round into a drinking game, but we're not telling you not to, either.
Fear the Walking Dead (AMC, Sunday 9 p.m.) — There's a firebug and a make-shift zombie firing squad at the hospital as the zombie apocalypse becomes a reality.
Masters of Sex (Showtime, Sunday 10 p.m.) — As if the line between business and pleasure wasn't already blurry enough, Johnson and Masters are at odds over a new program and whether it means they should be, ahem, "working together" again.
Ray Donovan (Showtime, Sunday 9 p.m.) — Ray's wife is on his case because she wants to move back to Boston, but he's got his hands full with a Mexican standoff when he's caught up in Jon Voight's game of Donnie Brasco.
College GameDay (ESPN, Saturday 10 a.m.) — The College GameDay crew heads to East Lansing, Michigan for No. 7 Oregon at No. 5 Michigan State. It's the first Top 10 game of the season.
Sunday Night Football (NBC, Sunday 8:20 p.m.) — Giants at Cowboys open up the season on Sunday Night Football. Fingers crossed we get more of this: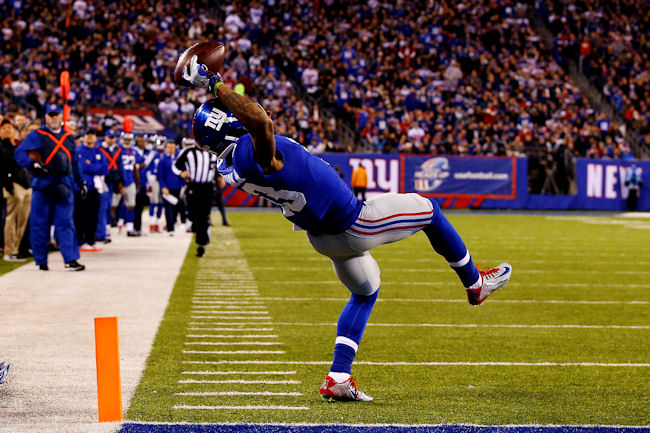 Last Week Tonight with John Oliver (HBO, Sunday 11 p.m.) — Oliver and co. come back from hiatus after ruining the entirety of the American high school English curriculum without so much as a single spoiler alert.
Late Night — Amy Schumer, Stephen King and Troubled Waters on Colbert; Donald Trump, Terrence Howard and Pharrell Williams on Fallon; Mindy Kaling and Ricky Martin on Kimmel; Andy Samberg, Kevin Love and M. Night Shyamalan on Meyers.