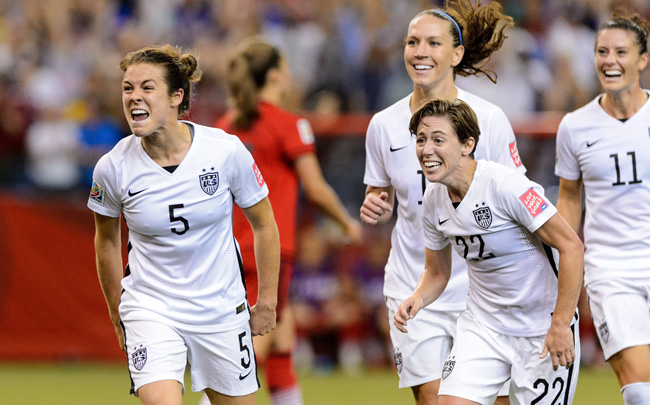 Note: Contains True Detective spoilers
Women's World Cup Final (FOX, Sunday 7 p.m.) — 1,449 days after losing to Japan in dramatic fashion at the 2011 Women's World Cup, Carli Lloyd and the USWNT seek redemption against a familiar foe. U-S-A! U-S-A! U-S-A!
True Detective (HBO, Sunday 9 p.m.) — After suffering the most vicious attack at the hands of a bird since Tippi Hedren, Colin Farrell's existence is very much in doubt. But — if the episode description is accurate — he's probably still alive and "going rogue" in his investigation with Ani.
Shark Week! (Discovery, Sunday 8 p.m.) — Shark Trek, an in-depth look at why great white sightings are on the rise in Florida, kicks off Tracy Jordan's favorite week of the year.
Ballers (HBO, Sunday 10 p.m.) — YACHT PARTY! Hope you jabronis brought your seersucker and sailor hats because things are about to pop off at Spencer's luxury party on the open seas. Also, that Reggie guy actually appears dumb enough to continue to pick a fight with The Rock. Fingers-crossed he'll rock bottoms him through the dock.
The Brink (HBO, Sunday 10:30 p.m.) — Now that he's verified his connection to Secretary of State Larson by revealing Larson's, ahem, quirks (Larson pays prostitutes to pretend to assassinate him during sex), Alex is tasked with relaying a message to Walter while everyone else tries to figure out exactly what happened to the Indian drone (two pilots got high and blew it out of thin air).
Macy's 4th of July Fireworks Spectacular (NBC, Saturday 8 p.m.) — Why spend our nation's birthday outside at a barbecue with friends and family beneath a sky illuminated with fireworks when you could sit on your couch and watch other people do that between live performances by Dierks Bentley and Katy Perry? Plus, everyone knows that "America the Beautiful" is the best fireworks song of all time.
Last Week Tonight with John Oliver (HBO, Sunday 11 p.m.) — Sorry, no new episode this week. John Oliver and his poignant dismemberment of some part of our society will return on July 12.
HUMANS (AMC, Sunday 9 p.m.) — Niska goes full Ex Machina in the second episode of the show about how terrifyingly close to the robot apocalypse we actually are.