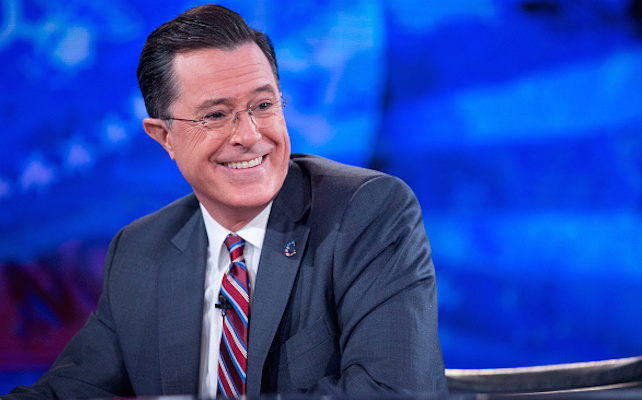 Stephen Colbert left The Colbert Report on December 18, and with him not scheduled to premiere as the host of CBS's Late Show until September 8, we have to go nine months without seeing one of our favorite people on nightly television. We've had the send-off of David Letterman, the arrival of James Corden, and Jon Stewart's final months as host of The Daily Show to keep us preoccupied, but we have really been missing Colbert lately.
This fact really hit home yesterday, when Colbert re-entered the world of Twitter after having mostly sat out for the last five months, save for a very small smattering of tweets, including this one:
— Stephen Colbert (@StephenAtHome) May 1, 2015
Until yesterday, Colbert has only had 10 tweets since leaving the air in December, so the three yesterday were a very welcome sight, and it appears that Colbert — now that Letterman has been put to pasture — will begin promoting his show in earnest.
Such a great weekend — went out to the beach and binge-watched the sunset.

— Stephen Colbert (@StephenAtHome) June 1, 2015
I probably don't tweet as often as I should. But in my defense, you check Twitter way too often. #LSSC

— Stephen Colbert (@StephenAtHome) June 2, 2015
Working on topical monologues for The Late Show Premiere on Sept. 8 — Hope you guys are still into Left Shark. #LSSC

— Stephen Colbert (@StephenAtHome) June 2, 2015
Colbert is back! Also, a new hashtag has been born: #LSSC (Late Show with Stephen Colbert).
However, it's not as though Colbert has been completely absent since December. He's stayed mostly low-profile, but he's definitely been around. Here's what he's been up to since leaving The Colbert Report:
Feb. 20, 2015: Colbert introduces the glorious Colbeard, which is something of a tradition for late-night hosts during a hiatus.
Feb. 27, 2015 — Though likely filmed before he left Comedy Central, Colbert appeared on Season 3 of House of Cards.
March 10, 2015 — Colbert appears as a priest in an episode of The Mindy Project, which featured Kaling breaking character in this phenomenal deleted scene.
April 17, 2005 — Colbert interviewed George Lucas at the Tribeca Film Festival, and also explained that he'd never want to replace Jon Stewart on The Daily Show.
May 4 2015 — On Star Wars Day, Colbert held a Q&A with Richard Gere at the Montclair Film Festival and bragged that both he and Gere have appeared on People's Sexist Man Alive list.
May 7, 2015 — It was announced that Colbert would donate $800,000 to fund nearly 1000 projects in 375 schools. He basically backed every single project that school teachers in South Carolina requested to have funded on a crowd-sourcing website.
May 13, 2015: Colbert showed up to the CBS upfronts and made fun of Kim Kardashian's Paper magazine photo shoot.
Stephen Colbert's attempt to #BreakTheInternet at CBS #Upfronts2015 pic.twitter.com/0qiRugIsYY

— Jarett Wieselman (@JarettSays) May 13, 2015
May 18, 2015: Colbert gave the commencement address at Wake Forest University, and compared the Vietnam War to Tumblr.
May 26, 2015: Colbert shows up in the teaser for the sixth season of Jerry Seinfeld's Comedians in Cars Getting Coffee.
That's about it for Colbert over the last nearly six months. However, as September 8 approaches, we should begin to see much more of him as he prepares to take over The Late Show.