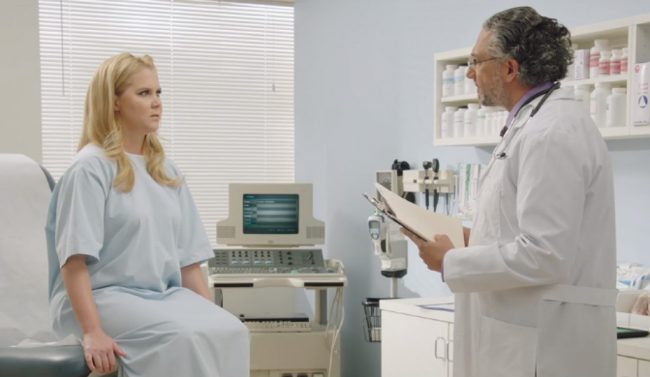 Inside Amy Schumer (Comedy Central, 10:00 p.m.) — In the season four premiere, Amy teaches us how to avoid having sex with your boyfriend and pitches a new, historical musical to Hamilton genius Lin-Manuel Miranda. He's not having it.
Vikings (History, 10:00 p.m.) — The season four finale sees Ragnar facing off against Rollo as the Vikings and the French meet for a final, gruesome battle.
Bones (Fox, 8:00 p.m.) — When the leader of a men's rights group dies in a car crash, Brennan is forced to make nice with the organization's co-founder.
DC's Legends of Tomorrow (CW, 8:00 p.m.) — A deadly assassin known as The Pilgrim — possibly the worst villain name of all time — wants to erase the Legends from the time line by killing off their younger, powerless selves. The team must travel back in time and kidnap their prepubescent selves in order to stop him.
Grey's Anatomy (ABC, 8:00 p.m.) — Callie makes a decision about Sophia's future on her own, which doesn't sit well with Arizona. Elsewhere, the doctors try to save a young boy's life after he's accidentally shot.
Strong (NBC, 8:00 p.m.) — Adam and CC have quickly become the show's most-hated duo, so it's a bit of cosmic justice that they're the ones struggling tonight. Here's hoping they get their ticket to the Elimination Tower.
The Big Bang Theory (CBS, 8:00 p.m.) — Leonard and Sheldon have a disagreement which morphs into a fight which morphs into a nerdoff that forces everyone else in the group to choose sides.
The Odd Couple (CBS, 8:30 p.m.) — Felix puts Emily in charge for a day while Oscar runs into some problems after he starts dating his neighbor's nanny.
American Grit (Fox, 9:00 p.m.) — Want to feel even worse about not making it to the gym today? Tune in tonight as John Cena yells at/motivates people who have chosen to be trained by the toughest military instructors in America.
Scandal (ABC, 9:00 p.m.) — We finally learn how Jake got caught up in this B6-13 nonsense as Olivia tries to figure out how to stop her father and her on-again off-again lover from carrying out their terrible plan.
The 100 (CW, 9:00 p.m.) — Tonight's horror-themed episode seems a bit misplaced in the grand scheme of things, but hey, I'll never not watch people locked in a dark room chased by a hooded psycho-killer.
The Blacklist (NBC, 9:00 p.m.) — Red helps a mysterious woman on the run from unknown attackers get revenge against the people pursuing her.
Mom (CBS, 9:00 p.m.) — Bonnie's spending more time at A.A. than her boyfriend would like and Christy struggles with showing Jodi's boyfriend — also an A.A. member — the compassion he needs.
2 Broke Girls (CBS, 9:30 p.m.) — Caroline tries to get a liquor license for the dessert bar while Max fields her boyfriend's requests to sleep over.
Archer (FX, 10:00 p.m.) — Archer must help a stranger find his birth mother.
Lip Sync Battle (SPIKE, 10:00 p.m.) — Agent Carter sings "Pretty Fly (For a White Guy)" and Phil Coulson gets down to some Britney Spears.
Orphan Black (BBC, 10:00 p.m.) — Sarah makes a new ally and discovers the next step in Neolution's plan.
The Catch (ABC, 10:00 p.m.) — Margot and Ben must set up a jewelry heist in order to pay their benefactor as Alice handles a client being blackmailed with compromising photos.
Game of Silence (NBC, 10:00 p.m.) — Gil loses it after he runs into an old guard from Quitman, making Jackson reevaluate the trio's plans for revenge.
Time Traveling Bong (Comedy Central, 10:30 p.m.) — Jeff and Sharee free some slaves and kidnap a young Michael Jackson.
LATE NIGHT GUESTS
Jimmy Kimmel Live!: Keegan-Michael Key & Jordan Peele, Glen Powell, M83
The Late Show With Stephen Colbert: Tom Hanks, Leslie Odom Jr., The Strumbellas, Roy Haynes
The Late Late Show With James Corden:  Charlize Theron, Chris Hemsworth, Emily Blunt, Jessica Chastain
The Daily Show With Trevor Noah: Gov. Howard Dean
The Tonight Show Starring Jimmy Fallon, Late Night With Seth Meyers and Conan are repeats.