Comedy Central Roast of Justin Bieber (Comedy Central, 10:00 p.m.) – Enjoy as famous celebrities give voice to every insult you've ever thought about the Canadian pop singer on national TV. Tonight's roast also serves as a warning to every other teen boy with a screaming teenage fan base who worships the ground he walks on. You throw eggs at people's houses, make Holocaust jokes and break Selena Gomez's heart, you deal with getting owned by Snoop Dogg and Martha Stewart.
Better Call Saul (AMC, 10:00 p.m.) – Mike lands himself in trouble when his ability to complete a job is called into question, and Chuck launches some harsh truth bombs at his brother.
The Voice (NBC, 8:00 p.m.) – Tonight marks the final installment of the Knockout Rounds before the coaches make their final selections heading into the playoffs. Just a reminder, this is a reality singing competition, not the NBA.
WWE Monday Night Raw (USA, 8:00 p.m.) – After Seth Rollins proved that he can do whatever the f*ck he wants at WrestleMania, and The Rock and Ronda Rousey gave us the greatest tag team of all-time, expect tonight to be a bit of a letdown.
Bates Motel (A&E, 9:00 p.m.) – After trying to drown himself in a bathtub in order to remember if he killed one of the motel residents, it's safe to say that Norman has officially hopped on board the crazy train. Apparently, that doesn't mean he killed Annika (who showed up last episode with the cure to Norman's psychotic behavior: a flash drive). Hopefully we'll find out what the hell is on that thing. Other hopes for tonight's episode: Norma takes her professor up on his therapy session offer, Emma comes back from her date with Norman still alive and Dylan takes pity on Caleb, showing him some love. The dude's trying so hard to be a dad that I'm actually starting to feel bad for him.
Scorpion (CBS, 9:00 p.m.) – When a key witness set to testify against a dangerous drug cartel is in danger, you don't call the FBI, the CIA or anyone trained in any kind of espionage, you call a team of socially awkward nerds geniuses.
The Following (Fox, 9:00 p.m.) – Ryan and Mike meet the show's new big bad — a guy who likes to wear clown makeup and shoot up small businesses — and Max struggles to come clean. Oh, and a completely predictable reunion takes place: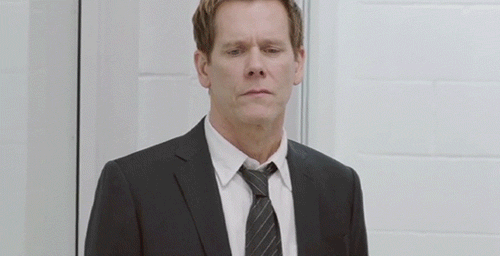 There's more sexual tension in this one GIF than in the entire 125 minutes of Fifty Shades of Grey.
The Returned (A&E, 10:00 p.m.) – Lena takes a trip to the hospital, courtesy of Camille; Rowan grows closer to Simon; Tommy's OCD is a secret no more; and Julie thinks Victor might've been involved in a horrific death.
LATE NIGHT GUESTS: Neil Patrick Harris and Charlie Cox on Letterman; Helen Mirren and Oscar Isaac on Fallon; Vin Diesel and Van Halen on Kimmel; David Beckham, Claire Danes and Bob Odenkirk on Corden; Nathan Lane on Meyers; and Will Forte on Conan.