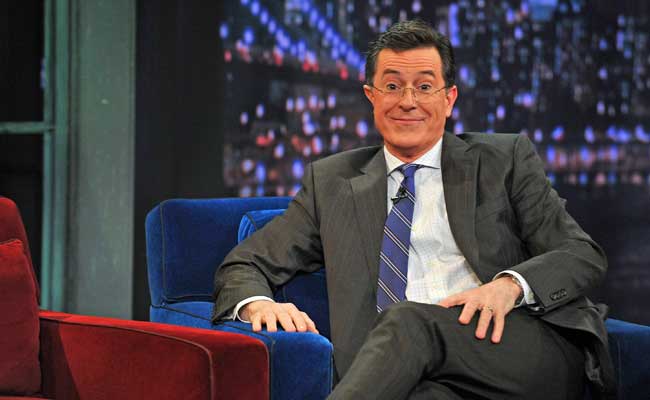 Late Night with Stephen Colbert (CBS, 11:35 p.m.) – Will the real Stephen Colbert please stand up – or sit down behind your new late-night digs and interview people we actually care to hear talk? Colbert's long-awaited launch into the talk-show stratosphere happens tonight and besides teaching Jeb Bush that using a seat on his show to fund raise his presidential campaign will result in some hilarious politician-shaming, Colbert is poised to shed his Comedy Central persona and show us the real man behind the mask (or comedian behind the desk?). So sure, indulge in your reality competitions and celebrity fodder tonight, but leave some room for Colbert. We're pretty sure he'll deliver. "The Obvious Choice"
60 Minutes Sports (SHO, 8 p.m.) – Showtime looks back at the characters of Friday Night Lights, dives into deep-sea fishing and explores the NFL's interest in virtual reality.
America's Got Talent (NBC, 8 p.m.) – We're still in the semi-finals at Radio City Music Hall and we're down to 11 acts.
Are You Smarter Than a Fifth Grader (Fox, 8 p.m.) – The season finale sees a physician testing his knowledge of elementary-level subjects in the hopes of winning $1 million (and of being taken seriously as a doctor for the rest of his career).
Inside the NFL (SHO, 9 p.m.) – Season 38 begins with Adam Schein (and a group of analysts) previewing the upcoming NFL season.
The BET of Life (BET, 9 p.m.) – This new series chronicles the lives of memorable BET celebs. Up first is Chris Brown. This should be interesting.
Total Divas (E!, 9 p.m.) – While Eva is choosing between her career and her boyfriend, Nikki is vacationing it up in Napa and Trinity is roughing it on an RV camping trip.
Zoo (CBS, 9 p.m.) – The only thing worse than having to undergo emergency surgery in a Zimbabwean hospital is having to undergo emergency surgery in a Zimbabwean hospital that's overrun by wild animals. Jackson is not having the greatest of days.
Ink Master (Spike, 10 p.m.) – Inking tattoo virgins and exposing one artist's secret plot are both on tonight's agenda.
Public Morals (TNT, 10 p.m.) – Muldoon has a meet and greet with the West Side Irish Mob at Mr. O's funeral while the dead guy's enforcer plans to wage war against Patton's crew. Also, people are still into those damned underground illegal card games so a couple of detectives are tied up with that.
Real Husbands of Hollywood (BET, 10 p.m.) – Kevin checks in for his court-mandated therapy at a country club and is reunited with Nia Long.
Tosh.O (Comedy Central, 10 p.m.) – In which Tosh takes tips from a rookie stuntman and offers advice for gambling on football.
Hollywood Game Night (NBC, 10 p.m.) – A Fall Out Boy, A Spice Girl and Cedric the Entertainer walk into a bar play drinking games on national TV.
Drunk History (Comedy Central, 10:30 p.m.) – We get a lesson in the Miami cocaine trade, Clark Gable's World War II service and Ponce De Leon's beef with Diego Columbus.
Punk'd (BET, 10:30 p.m.) – Sanaa Lathan visits a psychic and Trey Songz meets an uncharitable charity winner.
LATE-NIGHT GUESTS: Emily Blunt, Chris Brown and Rita Ora on Kimmel; Richard Gere, Jessica Simpson and Keith Urban on Fallon; George Clooney and Jeb Bush on Colbert; Tina Fey and Nick Jonas on Meyers; and Bradley Cooper, Andrew Garfield, Jake McDorman, Wiz Khalifa and Fall Out Boy on Corden. Conan is a repeat.