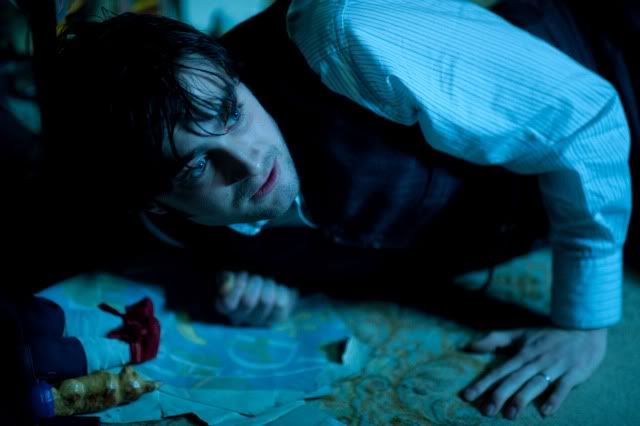 Take a look at Daniel Radcliffe in his first post-"Harry Potter" gig as haunted lawyer Arthur Kipps in the upcoming "The Woman in Black" from CBS Films.
Based on the Susan Hill novel of the same name, "Woman" centers on Kipps, a young father who discovers the ghastly secret of the titular ghost — the spirit of a dead woman who wants revenge for the accidental death of her own son. It also stars Ciarin Hinds (Aberforth Dumbledore in the latest "Harry Potter") and Oscar nominee Janet McTeer ("Tumbleweeds").
The photo doesn't reveal much — Radcliffe (sans glasses!) is well-dressed and in some sort of trouble, but it's just a shock to see him in anything not related to "Harry Potter."
This is Radcliffe's first film role outside of Hogwarts since 2007's "December Boys." He's also been seen in a handful of TV shows, and onstage in the acclaimed West End run of "Equus" that was later transferred to Broadway.
"The Woman in Black" will be released nationwide February 3, 2012.
Meanwhile, the last film in the boy wizard franchise, "Harry Potter and the Deathly Hallows Part 2," is currently the third highest-grossing film of all time, with global box office topping $1 billion.
Are you excited to see Daniel Radcliffe stretch his acting talents beyond the "Harry Potter" films?